Deep purple-ruby color; plum, blueberry, black cherry on the nose; black cherry, plum, blueberry, hint of vanilla on the palate.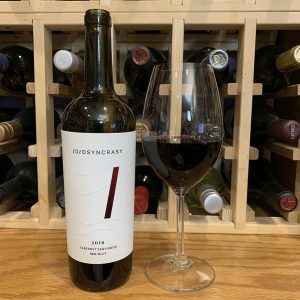 Dry; smooth; there are almost no tannins, which will hurt pairing with big red meats and with bottle aging. Medium body. OK fruit, but pretty plain overall. Inoffensive. Struggles to find character and distinction. The lack of tannins and low acidity just don't seem right for a Napa cab, especially for one at this price point (more than $40); 14.9% ABV, but I don't even get the expected burn on the finish. Easy drinker, I give it that.
This is exclusive label for wineaccess.com by noted winemaker Julien Fayard. There are some other Idiosyncrasy iterations, including an Idiosyncrasy Atlas Peak bottling, that sell for a bit more and may have a more defining character. Wine Access is a wine club, and this comes across as a wine club wine—wines often made by quality makers, but too often with their second-tier fruit. Wine Access presents a compelling story on its website, and doubtlessly it can deliver value for some, but I struggle to see how this beats out other bottles you can buy at your neighborhood wine store at half the price.
The other trouble I have as a newspaper wine columnist and online wine writer is the only way you can get this wine is to become a Wine Access club member. That rules out almost all of my readers in print and online who are not willing or able to make a commitment that costs hundreds of dollars. Still, Wine Access sent it to me and I have tried to present a balanced review. This is not bad wine. Its smoothness and inoffensiveness will be a virtue for some drinkers, and good for them. I prefer Napa cabs with more assertive character and distinctiveness. And a cheaper price. Yea, that, too.
Wine Access notes: "The intent of this wine was to make a serious Napa Valley Cabernet that was approachable enough to be enjoyed anytime. The better part of the blend comes from one of the best vineyard sites on Howell Mountain, lending its structured black and blue fruits, with rest consisting of various appellations for Valley floor fruit, softening the tannins and making the wine approachable in its youth.  Further complexity is added by 50% new French and Hungarian oak and a touch of Petite Sirah, Petit Verdot, and Merlot—yielding a full bodied wine that drinks well on its own, but pairs well with a variety of foods."
Idiosyncrasy Cabernet Sauvignon Napa Valley 2016 is a wine club wine from a talented maker that drinks easily but lacks distinctive character, especially in tannins and acidity. There is an element of deliciousness that will inspire drinkers who are not into Napa cab statement wines. This seems aimed at that precise market. Pair with the blander fare that pairs with cabernet sauvignon, but its métier likely is sipping solo, maybe paired with some other cabs in a brown-bag-veiled blind tasting. $43-46