Deep ruby color; cherry-blackberry jam, flowers, vanilla on the nose; cassis, cherry, plum, blackberry, tobacco, vanilla on the palate.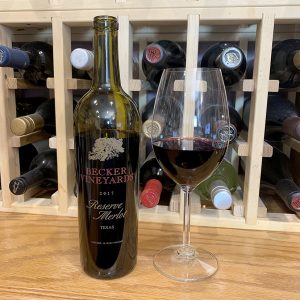 Dry; rounded but significant tannins play with the blackcurrant tang and some balancing acidity to make this a powerful iteration of merlot. There are no smooth, bashful notes in this reserve effort. Aged 14 months in new and used American and French oak. Appears to have 10% cabernet to add to the structure and impact. All the grapes come from the Texas High Plains AVA; 14.1% ABV.
Smooths out some with air; delivers a hint of mocha-chocolate on the finish. I decanted mid-way through the second glass and strongly recommend decanting. This has the backbone and assertive flavors to play in the same league with cabernet sauvignon and cab blends, a feat not all merlots can manage. If you are a Texan, this is bottle you can pour without apology. If you are not, this is another effort to open your mind to the possibilities of Lone Star State wine. If you are simply a wine lover, enjoy a merlot with some surprisingly robust swagger.
Becker Vineyards started when Dr. Richard and Bunny Becker sought a Hill Country getaway from their lives in San Antonio. They found it in Stonewall, Texas, halfway between Fredericksburg and Johnson City (17 miles away from Fredericksburg). First imagined as a small operation, it soon blossomed and Becker now produces 140,000-plus cases a year, allowing for extensive distribution, something most Texas wineries have yet to achieve. Becker is the largest buyer of French and American oak in Texas.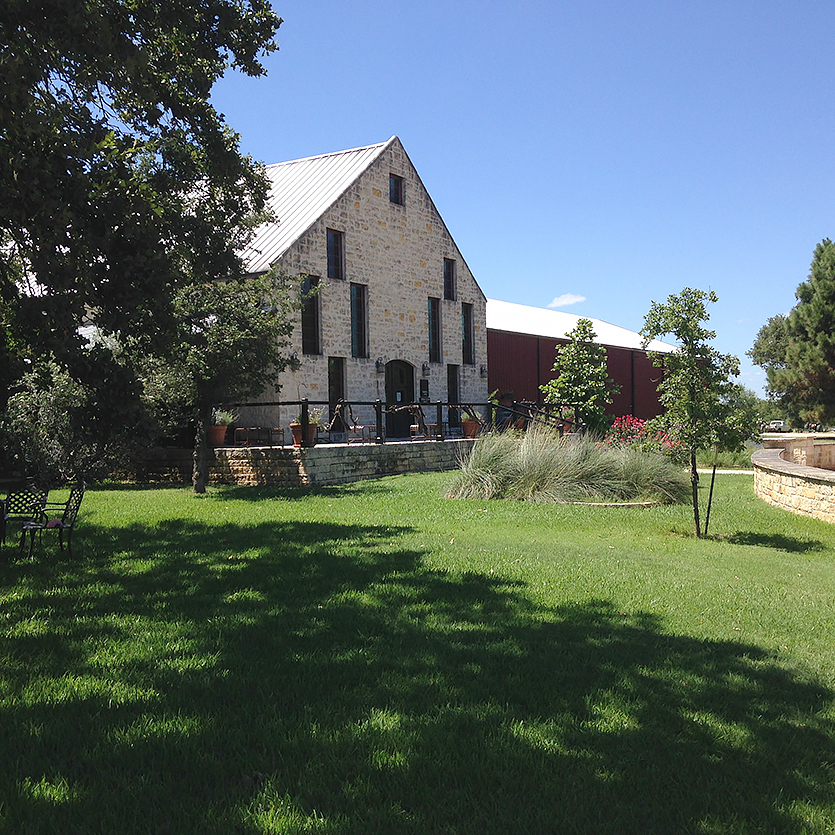 The Beckers and their wine operation are exemplar of Texas winery success. Bunny was a ferocious promoter of the brand, a task she immersed herself into in the 1990s after surviving breast cancer. She was the ebullient, smiling face of Becker for decades. Texas wine lost a shining, inspiring light when cancer returned and Bunny died in August 2019.
Becker's success is one of the defining elements of the impressive Texas wine scene. The state now can claim to be the fifth largest wine producer in the US. Granted, that is a marginal claim. California makes 89% of American wine. Washington, Oregon, and New York make most of the rest.
Texas makes something more than one-half of one percent of US wine, but increases its percentage each year and now has more than 350 wineries. The Texas wine scene surges forward. The Texas Hill Country AVA—where Becker's Fredericksburg tasting room and commodious winery are located—is the second-most visited AVA in the nation, behind only Napa. Who knew this would happen when Richard and Bunny took a getaway winery fling 25 years ago?
Becker Vineyards Reserve Merlot Texas 2017 is another proof that Becker is not just a nice Texas wine, but a real player in the wine world. This has character and depth. And it is only one of several Becker efforts that punch significantly above their weight. Excellent, amazing value-for-price proposition. Pair with pizza; burgers; barbecue; rich steaks; smoked meats; lamb; venison and other wild game; hard cheeses. $13-16