Deep ruby color; cherry, plum, raspberry on the nose; cherry, strawberry, plum, blackcurrant, chocolate, oak toast on the palate.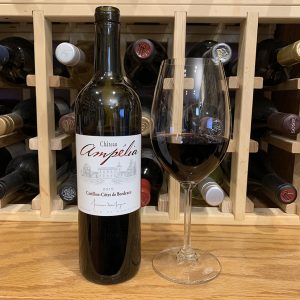 Dry; firm, grainy tannins with balancing acidity. Juicy fruit; fruit-forward. Made more in New World style than classic Bordeaux; basically straddles the styles. Medium-full body. Reserved oak—one-third new barrels, remainder second and third-filled barrels. Oak is there, but as background, not a lead player. Tannins provide grippy feel on the finish; 80% merlot, 20% cabernet franc (for color and complexity); 14.5% ABV.
The wine is organically grown with no use of weedkillers. Grapes are sorted in the field and in the cellars with maceration lasting around four weeks. The wine is transferred to barrels for malolactic fermentation, then spends 12 to 18 months in barrel—one third new, one-third second fill, and one-third third fill for a deftly done presentation of oak in the final product.
Even the winery suggests decanting when the wine is young. I considered—readers know I always consider decanting—but found four years after the harvest and some time in large glass the wine was interesting without the decanting. Readers know I usually do first taste as a pop-and-pour, because that is how many will experience it, then decide if I need to taste the next pours after decanting. Upon further reflection, I might well decant from the start on this, but it is a close call on this nice effort.

The lineage of this maker dates back more than two centuries. This is the value proposition on Château Grand Corbin-Despange. The website's charming assertion: "The Despagne name has been inextricably linked with the land of Saint-Emilion since at least the beginning of the 17th century. The oldest known family document is that of the baptism in 1665 of the son of Pierre Despagne, a ploughman, and Lison Raynaud. Their descendant, Louis Despagne, born in 1789, would be instrumental in creating the family's renown."
The family acquired vineyards bordering Saint-Emilion: "In 1999, François Despagne, alongside his wife Murielle, acquired around 5 hectares [12.3 acres] of vines there and from them they created their vineyard. They named it Ampélia, from the Greek Ampelos (the vine), a nod to their passion—ampelology, and a fine tribute, since the result was a Grand Vin made from a blend of plots of old vines. 'It's not a cuvee', insists François, 'it's simply the optimal quality we can get from this terroir'."
Château Ampélia, Castillon-Côtes de Bordeaux 2015 is tasty, very nice value-for-price Bordeaux effort. Plenty of fruit. More fruit-forward than you typically anticipate with a Bordeaux. Round and refreshing, especially after some swirling in large glass or decanting. More assertive than you expect with a merlot-led Bordeaux blend, but that is a feature of this effort rather than a fault. Worth a swirl, especially at this price point. Pair with beef tenderloin; beef stew; meatloaf; red meats in general, but maybe not rich, heavily marbled steak where more tannic punch would be needed; lamb; pork tenderloin; tomato-based pasta dishes; pizza; easy pairing. $15-18