Medium ruby color; cherry, blackberry, cedar on the nose; sour cherry, plum, mocha, vanilla, spice, smoke on the palate.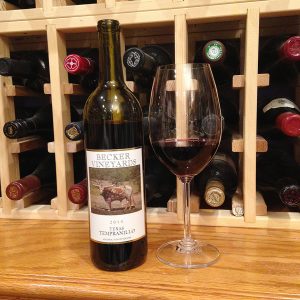 Tasty and excellent, affordable expression of tempranillo, the grape many are betting will be the signature Texas red (although sangiovese growers would argue). Significantly dense in the mouth, on the high end of body for tempranillo; same time, somewhat restrained tannin for a tempranillo, but there is pucker on the finish along with some red currant tang that mixes with the fruit-forward sweetness (not sugar, but illusion of sweetness caused by great fruit ripeness, generous oak, and 14.2% ABV). Balancing acidity. All-in-all, a very nice bottle of Texas-grown grapes from a leading Texas maker.
Becker started when Dr. Richard and Bunny Becker sought a Hill Country getaway from their lives in San Antonio. They found it in Stonewall, Texas, halfway between Fredericksburg and Johnson City. They first aimed at a small operation, but it soon blossomed and Becker, located on 46 acres near a lovely lavender field, now runs with the big dogs.
Becker is the largest buyer of French and American oak in Texas and produces 100,000-plus cases a year, allowing for extensive distribution, something most Texas wineries have not yet achieved.
Becker Vineyards Texas Tempranillo 2014 is a very drinkable, easy-to-like, priced nice. $14-15