Deep ruby-purple color; blackberry, leather, cedar, caramel on the nose; caramel, chocolate, black cherry, blackberry, coconut, vanilla, brown sugar on intriguing palate.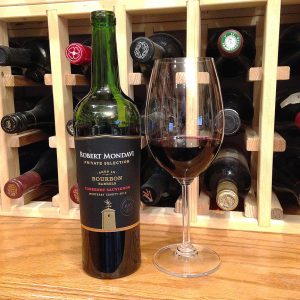 A portion of the wine aged three months in Bourbon barrels, giving it unique flavors. Sure the Bourbon Whiskey barrels are a gimmick, but the result is distinctive wine that some may embrace rather than a hot mess that many will reject. Bourbon barrels are 100% American oak with deep charring to impart toasty flavors of vanilla and brown sugar. This is non-standard wine making. Mondavi is one of the first—maybe the first—to use Bourbon barrels to produce cabernet sauvignon on national distribution scale.
The result is extremely smooth, loads of fruit sweetness (not residual sugar), tannins and acidity seem to have vanished. Very round and extraordinarily fruity. I can imagine some thinking they have found the cab of their dreams, while others will find it way, way over the top with the oak and the caramel and vanilla. Forget oak monster, this is oak King Kong. Caramel, chocolate, vanilla, and brown sugar dominate the experience. You will have to decide for yourself if this is where you want to go in your wine life.
This is limited production wine, but it is available at Sam's Club, so you should be able to find it and give it a whirl. What the heck, wine adventures will try anything once, at least a glass.
Robert Mondavi Winery is a master at superb, large-scale production of wine that faithfully expresses the varietal or style, a legacy of the founder, Robert Mondavi, who revolutionized wine making and marketing. Constellation Brands owns Mondavi now, but affordable quality mission remains. This wine is a foray into gimmickry that surely will work for some and is example of how Constellation explores all levels of market tastes. It definitely is not a pure expression of cabernet sauvignon. It is vivid example of what oak can do to wine.
Robert Mondavi Winery Private Selection Bourbon Barrel-Aged Cabernet Sauvignon, Monterey County 2015 is very fruit-forward with significant brown sugar, caramel, chocolate, oak elements which will thrill some and dismay others. Embrace adventure and see what you think. $13-15