Deep purple color; plum, boysenberry, cherry, smoke on the nose; black cherry, blackberry, plum, bacon, licorice, spice on the palate.
Dry; juicy fruits; excellent acidity; very low tannins. Barbera is an easy drinking wine most closely associated with the Italian Piedmont. This Paso Robles iteration is chewy and full in the mouth. Medium finish with black fruits and a nice touch of fruity sweetness (not sugar sweetness). Some oak from 16 months in 20% new French barrels; 14.5% ABV.
The grapes come from the Glenrose Vineyard in the Adelaida District on the western side of Paso Robles. The vines were planted in 1994 in chalky, heavy limestone soil. The vineyard is at 1,700 feet elevation. To evoke more tannins from the low-tannin barbera grapes, the grapes are cold soaked for five days with 15% whole cluster and the remainder whole berry. They then fermented for 30 days on the skins in open-topped, stainless steel tanks with natural yeasts. After that came the oak time. Bottles were filled without filtration.
Kevin Healey co-owns the winery. After serving in the Vietnam war, Kevin came home and "took up residence" in a Adelaida vineyard, as a "sabbatical from civilization." He spent a decade learning how to be an organic viticulturist and how to make wine. He worked at Pesenti Winery until it sold in 2000.
Healey then teamed up with Sherman Smoot, a Navy fighter pilot veteran, to found Bella Luna. Smoot holds a biological science degree from Washington State University. The website notes: "He believes the artisan way versus the science sometimes results in great spirited debates in the winery, but, ultimately, that's how he achieves what he truly enjoys."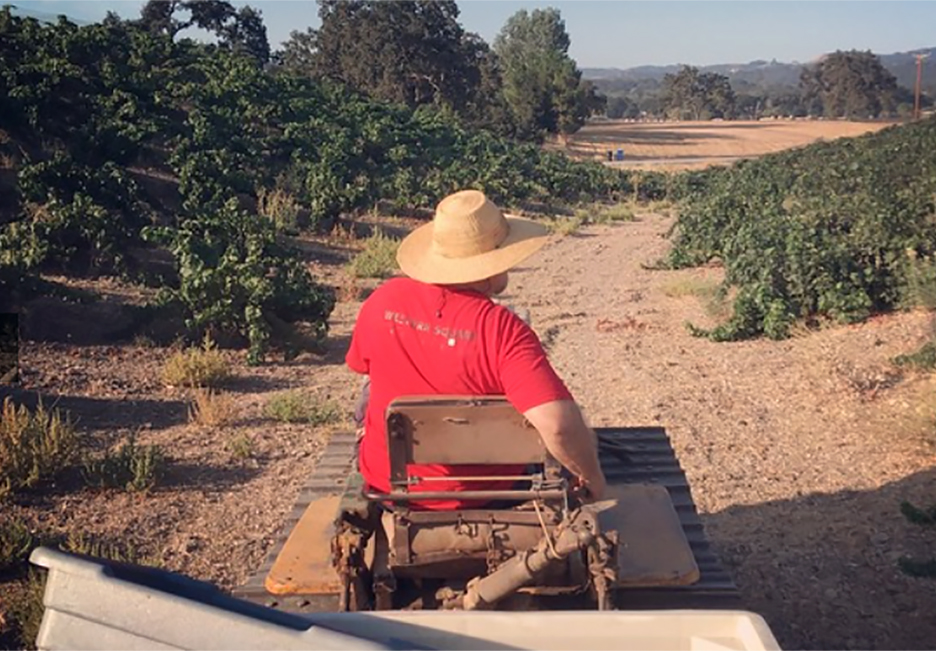 All Bella Luna vineyards are dry farmed. They plan their vine spacing and root stock to accommodate the technique. The website notes: "By dry farming our grapes we believe it makes for more interesting wines with more minerals and earthy content. The grapes grown by dry farming are smaller and the skins are thicker and since a major part of varietal character is in the skin, we get more intense fruit characteristics in our wine." This effort affirms that approach.
Bella Luna is a quirky, boutique winery. There were only 101 cases of this effort produced, and still they sent me a bottle to evaluate. It is owned by two military veterans who obviously march to their own "what the hell, we are going to have fun and do it our way" drummer. If you get a chance and have room on the credit card, well worth a shot.
Bella Luna Estate Winery Glenrose Vineyard Barbera 2016 is an easy drinking, big fruity, Paso Robles expression of a classic Italian grape. Barbera does not taste like cab or pinot or malbec. It tastes like barbera. It gets better with some air and the more you drink, and since it has a fruity deliciousness, be prepared to drink several glasses.
Pair with comfort food—you could say this is comfort wine. Pair with pizza, burgers, meatloaf; grilled or roast pork; braised lamb dishes; spaghetti and meatballs; vegetable-driven dishes. With its elevated acidity, barbera is very food friendly with rich and/or spicy dishes. It also works as a solo sipper to enhance the bonhomie after a meal where you imbibed a more ostentatious wine with your main entrée. Likely goes well with war stories. $42-45