Medium copper color with hint of green; raspberry, lemon-lime, green apple on the nose; tart cherry, raspberry, apricot, strawberry, Granny Smith apple on the palate.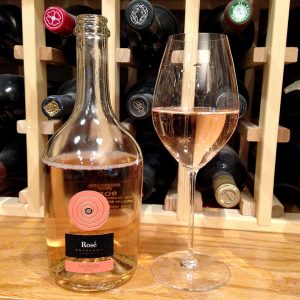 Extra dry—very slightly sweeter than brut. Persistent bubbles, firm acidity that balances the hint of sugar (extra dry is not sweet wine) and brings a bite of grapefruit in the mid-palate. Crisp, clean, well focused through to impressively long finish. Blend of glera—the grape that makes Prosecco—and raboso, a red grape primarily grown in the easter part of Veneto. Raboso is prized for delivering acidity. The name "raboxo" mean "angry" in Venetian language, because that is sensation in the mouth when highly tannic and acidic raboso is consumed young as a red wine. This wine employs raboso's good traits to positive effect and avoids the angry notes. In past centuries, raboso was called "vin de viajo"—wine of travel—because its sharp tannins and high acidity meant it traveled very well in Venetian ships around the world.
The Bervini winery started on May 5, 1955, when Antonio Bergamo and his son Giuseppe established Azienda Vinicola A. Bergamo. Today, Giuseppe and his son Paolo manage the operation. Paolo now pushes the operation into the international market through the winery's "VinOpera Project," of which Bervini is one; i Sessanta is the other. Bervini/Azienda Vinicola A. Bergamo enjoys deep connections to the Friulian flatlands in northeast Italy. The cellars are at Chions in Pordenone Province (about 56 miles northwest of Trieste). Their 54 acres of vineyards are certified organic and straddle the two DOC zones of Prosecco and Friuli Grave.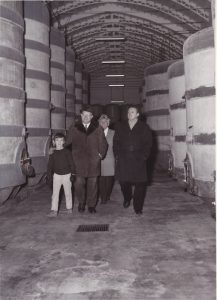 U.S. sales of Bervini wines began in 2017 when the Bergamos entered a long-term marketing and distribution agreement with Wine Trees, based in Santa Rosa, California. In a press release, Wine Trees founder Bruce Cunningham notes: "We are committed to the premium Italian sparkling wine category, and as it continues to grow, the Bervini 1955 wines will become an important piece in our portfolio. Positioned at the correct price points and focused on Prosecco and Spumante Rosé, Bervini 1955 will be an exciting addition to any wine list or retail lineup."
Bervini 1955 Rosé Spumante Extra Dry—spumante is Italian word for sparkling/Champagne-type wines—brings nice tartness and tang to marry with strawberry and pear. Interesting bottle, nice rosé color. Will work well as an aperitif thanks to its tasty freshness, color, and interesting bottle; pair with seafood, lobster, Thai spicy shrimp, white meats, pizza, finger foods. As with most sparkling wine, it will pair with almost anything. $17-19