Delightful blush-salmon color; roses, peach on the nose; cherry, strawberry, raspberry, citrus, orange peel on the palate.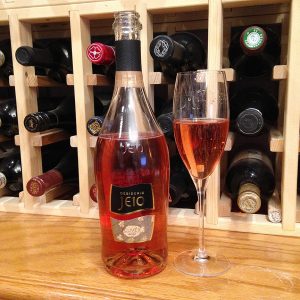 Nice acidity, minerality stand out in this lively, crisp, fresh, easy drinking sparkling. Very active perlage. Light body, refreshing finish. Made in Veneto, Italy, which is Prosecco region—Bisol is a major Prosecco maker—but this is blend of merlot and pinot noir and has no glera grapes in it.
Bisol is one of the premier estates in the Veneto region of northeastern Italy with a wine-making legacy going back to 1542. Bisol claims 21 generations have worked the land and made wine. The estate was on the front lines between Austria-Hungary and Italian forces in World War I but survived, as did the family. The estate survived again in World War II. After WWII, patriarch Desiderio Bisol distributed different roles to each of his four sons. Antonio, in charge of administration at Bisol, notes: "my father Desiderio was acutely sensitive to product quality and always tried to buy the best plots, the most expensive and steepest and therefore the most difficult to work, but it was that very steepness and composition which made them ideal for nurturing Glera grapes". This effort shows they know how to do merlot and pinot noir, too.
Gianluca Bisol, managing director of the company, explains his family-business focus: "We work tirelessly with passion so that Conegliano will gain the same prestige as Reims, Valdobbiadene the same charm as Epernay and Prosecco the same notoriety as Champagne." The "notoriety" translation in the quote may better be thought of as "fame," but you get the general idea. There is no question the Veneto is successfully establishing itself as a world-premier winemaking region.
Bisol Desiderio Jeio Cuvée Rosé Brut Spumante NV is a quality alternative to much pricier Champagne offerings. Very lively bubbles and cleanly presented red fruits serve the pour well, but crisp acidity is the star of the effort, making this an intriguing pairing with wide range of foods. $15-18
Other photos: Bisol family; Bisol cellar