Medium straw color; lemon, apple, citrus on the nose; nectarine, apple, grapefruit, lemon-lime, peach, saline on the palate.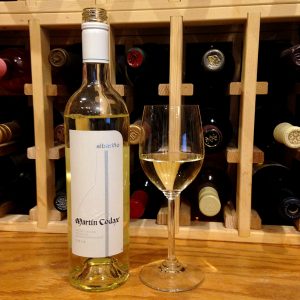 Dry; crisp with vibrant acidity; light body. No tannins; made in stainless steel tanks with temperature control. Salinity is a signature characteristic on albariño (alvarinho in Portugal). Rías Baixas is located in northwest Spain, near the Atlantic Ocean—some vineyards have views of the ocean. The same grape grows across the Minho River in Portugal to make alvarinho, also vino verde. The wines are terrifically well suited for food, especially seafood. 13% ABV.
Bodegas Martín Códax was founded in 1986 as a cooperative with about 50 local grape growers in Galicia in the northwest corner of Spain. It is named after the most known Galician troubadour whose medieval poems, the oldest in the Galician-Portuguese language, survive to the present. In the poems, the troubadour sings to love, the sea, and the coastline.
The Martín Códax website notes: "To maintain a supply of top-quality Albariño grapes, the winery acquired vineyards of its own and crafted long-term agreements with many family grape growers whose grapes met the winery's exacting standards. Today, Martín Códax oversees more than 1,400 small vineyard parcels farmed by 550 families in the Rías Baixas region around the town of Cambados. Martín Códax maintains its quality through continuous investment in research, innovation, and talented, creative people.
"The 'signature' wine of Martín Códax is Albariño, the versatile white wine that has made Galicia famous among connoisseurs around the world. The wines of Martín Códax have won international acclaim and are sold in over 40 countries around the world, where they have come to symbolize Galician culture at its finest." It is imported in the U.S. by E & J Gallo, thus enjoys wide distribution.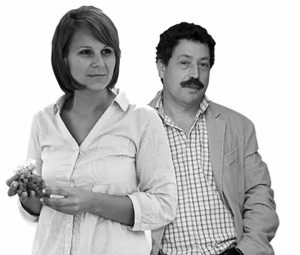 Katia Álvarez manages the winemaking with Luciano Amoedo, a ninth-generation winemaker. Amoedo was one of the founders of Martín Códex.
Bodegas Martín Códax Albariño, Rías Baixas 2016 is crisp, elegant, tart. A fantastic, food-friendly wine that is accessible to most wine drinkers thanks to its distribution by Gallo. Excellent alternative to New Zealand sauvignon blancs, dry rieslings, un-oaked chardonnay, and chenin blanc. If you have not yet added this to your wine list, do so now. Because of it tartness and saline/minerality notes it will not appeal to many as a solo sipper, but when paired with right food, this soars—a vivid demonstration of the magic that happens when the right wine pairs with the right food. Pair with seafood, shellfish, white meats; rice dishes; paella; fish tapas; fish tacos; green salads; Thai, Indian, Moroccan cuisine. $14-17