Pale straw color; peach, lime, pear on the nose; citrus; peach, lime, lemon, almonds on the palate.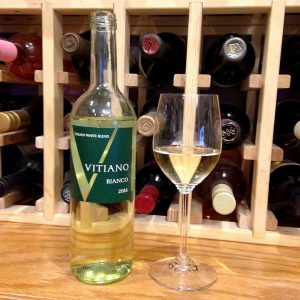 Dry; heavy-medium body with slight oiliness; fresh and crisp even though I am tasting this late in its life. Confession: it lay forgotten in my large wine refrigerator—call this testimony to the wine's quality when stored properly. There are newer vintages, and reviews by others are consistent year after year. Excellent acidity (3.3 pH); 12.3% ABV.
Blend of 50% vermentino and 50% verdicchio (which contributes the slight oiliness notes—a feature, not a fault). Nice balance; no tannin or malolactic butter notes. Clean, pleasurable finish. Vitiano Bianco was born from one of the many experimental vineyards Falesco planted though its partnership with the University of Viterbo. The grapes thrive in sedimentary clay. The grapes grow in sedimentary clay soils around the Marciliano estate. They are crushed and vinified separately, then blended together.
You likely know vermentino, less likely verdicchio. Verdicchio is Italian grape loved for its sweet, peachy aromas and slightly oily texture. The hint of almonds also means it can pair with marcona almonds from Spain if you want to use it as an aperitif or appetizer with light snacks. Throw in proscuitto if it is an afternoon bridge party or book club meeting. The relatively light alcohol means you won't get sloshed before supper.

Two acclaimed Italian winemakers, brothers Riccardo and Renzo Cotarella, founded Falesco in 1979. They emphasized the uniqueness and traditions of Italian varietals combined with the versatility of international grapes—this delightful rosé is an example.
Falesco winery is located in Umbria's Montecchio municipality, near Orvieto in the southwestern area that borders the Lazio region. The region is bordered by the Tyrrhenian Sea on the west and Italy's mountainous center to the east.
Falesco proclaims its mission is to rediscover and promote Italian native varietals. They also celebrate the land's capacity to produce high quality wines no matter the grape. That is hard to argue with. Italy really knows how to grow great grapes no matter where the grapes came from. To me, that is explanation why Italy has something like 2,000 grape varietals—the most in the world—that make excellent wines.
Falesco Vitiano Bianco Umbria IGT 2016 is exceptional wine for the price. Perhaps because I am drinking this late in its life—wine widsom has it that sprightly whites should be consumed in first year or two, but his one had hit three when I opened it —there is very attractive mellowness that plays very well with the still-fresh fruits and superb acidity. Nice trick. This is worth finding, and it comes at super-pleasing price. Pair with fish dishes; grilled shrimp kebabs; shellfish; summer casseroles; pasta primavera; garden salads; quiche; proscuitto; marcona almonds; light meats; savory tarts and soufflés. $9-12