Medium straw color; tropical fruits, roses, violets on the nose; Meyer lemon, lime, citrus zest, pineapple, apricot, banana on the palate.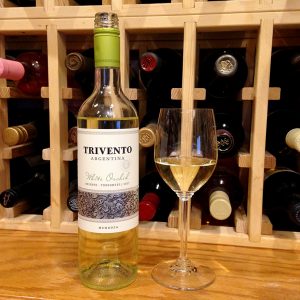 Dry/off-dry; vivid, ripe fruits give it sweet sensation; excellent acidity, evolving into racy, puckering on the finish with lingering tangy fruit. Clean, crisp, bright with slight oiliness in the mouth. Light-medium body. Blend of mostly torrontés with a dollop of pinot grigio (15%) that provides hints of golden apple and sweetness. The nose reveals why the "white orchid" name was chosen—plenty of floral aromatics here. No tannins; 12% ABV.
White orchid is a subtle shift in style for torrontés with the addition of the 15% pinot grigio. All the grapes come from Trivento's high altitude Mendoza vineyards. Torrontés is Argentina's signature white grape, although it is not really a single variety. Huh? Three varieties bear the torrontés name: Torrontes Riojano, Torrontes Sanjuanino, and Torrentes Mendocino. Torrontest Riojano the is most planted and likely the grape in this effort, although there could be elements of the other two. In general, the torrontés grapes are light and fresh, intensely perfumed—white flowers, with spice and a soapy/oily element.
Trivento means "three winds"—Zonda, Sudestada, and Polar. Zonda winds are dry and frequently carry dust and can blow at 25 m.p.h. While Zonda is hot and dry in the lower regions, it is the main snow producer in the higher elevations of the Andes; the winds occur between May and November, fall-winter-spring seasons in Argentina. The Sudesta winds blow from the southeast; they also are dry but usually bring rain between July and October—late winter and early spring in Argentina. Polar—or Pampero—winds are blasts of cold air, often taking form as squall lines. They bring a noticeable drop in temperature and are most common in winter—May through August—but they also occur in summer (December-January-February), bringing welcome relief for periods of high humidity and extreme heat.


Trivento vineyards cover more than 3,750 acres and eight vineyards in the Mendoza region of northwest Argentina. All the vineyards use drip irrigation systems—Mendoza is high dessert with less than eight inches of annual rainfall. Water comes the snow-capped Andes immediately to the west.
Trivento is the Argentinean property of Chilean wine powerhouse Concha y Toro, Latin America's leading wine maker. Founded in 1883, Concha y Toro produces wines at every price point, employs more than 3,000 people, and headquarters in Santiago, Chile. Concha y Toro exports to 135 countries. Excelsior Wines is a sales and marketing venture of Concha y Toro and Banfi Vintners in the United States, revolutionizing the way brands are brought to the U.S. market. They also sell and market California wines Little Black Dress and Five Rivers.
Trivento White Orchid Reserve Torrontés 2017 is a festival of tropical fruit flavors and white flower aromas. Fun wine, easy drinker that evolves with each new sip, versatile with food. Pair with wide range of seafood and shellfish; Chinese and Asian fusion; green-leaf garden salads; chicken piccata; sushi; foods with bold flavors and a bit of heat. $9-12