Medium gold color; white flowers, lemon-lime on the nose; peach, green apple, grapefruit, lemon-lime, mandarin orange, smoke, crushed gravel minerality-saline on the the palate.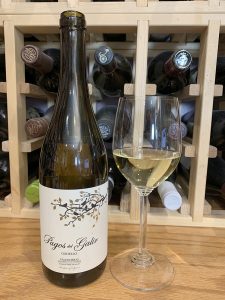 Dry; dense; fresh. Medium acidity (3.6 pH) that does not interfere with smoothness in the mouth. Interesting complexity thanks to five months on the lees helped create unctuosity/oilness that emphasizes smoothness and easy drinking qualities. Builds to excellent, cleansing finish. 13.5% ABV
Light body. No tannins. Time on the lees is a key element to quality godello wines. This saw no oak, which is not unusual for a godello wine, but godello also can be finished in oak, which produces a wine that is different from this effort.
The name of the winery on this bottle is Bodegas Virxe de Galir, but it also goes by Virgen del Galir. It was founded in 2002 in Éntoma, a small village in Orense, Galicia, near the center of Galicia and somewhat removed from the coast. The Camino de Santiago (Way of Saint James), once a medieval pilgrimage route and now a well-trodden tourist walking path, goes through the village and leads to the shrine of Saint James the Great.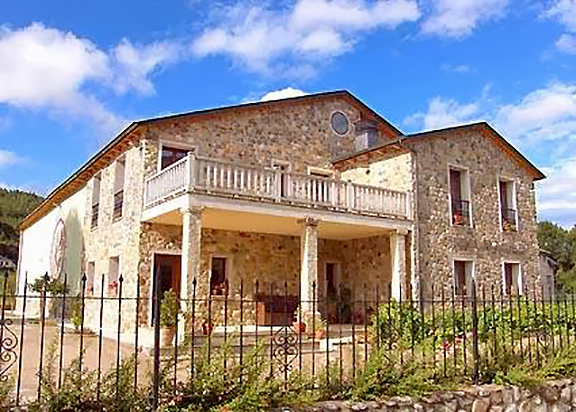 Although founded in the 21st century, the winery has roots reach back to the 17th century. There was an inn called the "House of the Garcia" that belonged to the ancestors of the current owners. Bodegas Virxe de Galir owns about 50 scattered acres of vineyards. The vineyards are in mountainous terrain about 2,000 feet above sea level on slate terrain, which imparts minerality to the wine.
Godella is a white grape particularly grown in Galicia in northwestern Spain. The best grapes come from Valdeorras, where the grapes for this bottle were grown. The grape nearly went extinct in the 1970s, then began a strong comeback, particularly in Galicia. It often is touted as an alternative to chardonnay, also characterized as falling between a dry, un-oaked chard and chenin blanc.
Bodegas Virxe de Galir Pagos del Galir Godello 2017 is vivid, bright, fresh expression of interesting white grape from northwestern Spain. This comes from Valdeorras, the world's top region for godello. Pair with rich seafood, oily fish; crab; sautéed chicken breast; white meats; garden salads; goat, feta, robiola cheese. $17-19