Medium gold color; pear, peaches, apricot, tangerine, citrus on expressive floral nose; pear, tangerine, apricot, minerals on the palate.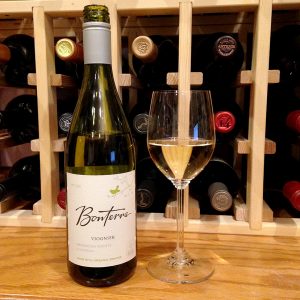 Dry (4.6 g/L RS); good acidity (3.47 pH); crisp and bright in the mouth. Fermented in stainless steel with no malolactic fermentation to preserve the freshness and fruit-forward elements. Hint of honey appears on the mid-palate along with classic slightly oily sensation, followed by minerality and tangerine on the finish. Medium body.
Viognier is a classic grape in the northern Rhône in France, where it often is blended with syrah (DNA testing indicates viognier either is grandparent or half-sibling of syrah; it also may be a relative of nebbiolo). Viognier's popularity has significantly increased in recent years because, although it can be difficult to cultivate, it does well in California's Central Coast, in Texas, and in the Edna Valley in Australia. In the late 1960s there were just 35 acres of viognier vines left in the world, located exclusively in the Condrieu and Château-Grillet area of the northern Rhône. The resurgence began the next decade. There now are some 800 acres in the northern Rhône alone and more than 2,000 in California. Acreage continues to increase worldwide.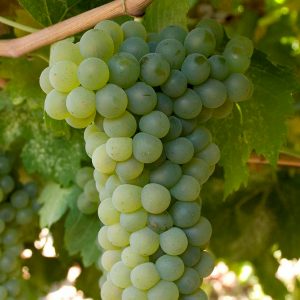 Viognier often is touted as an alternative to chardonnay because there are clear similarities depending on how the grape is treated in the winery. Viognier is more aromatic. When it is produced in stainless steel there is good acidity and loads of fruit; when aged in barrels and with malolactic fermentation, it becomes much richer and loses acidity. The stainless-fermented wine is great with food. The barrel-fermented wine less so, but works well as solo-sipper or with foods that also pair with rich, oaked chardonnay.
Bonterra focuses on organic and sustainable agriculture. "We plant native flowers around our grapes to attract beneficial bugs, and welcome songbirds and chickens into our vineyards to eat up the pests," they announce. "We even employ sheep to mow between the vines. In our vineyards, every living thing is connected and we all work together to create pure, flavorful wine."
Bonterra not only commits to organic and sustainable, they also go the extra mile into biodynamic farming, sometimes called voodoo viticulture, but—regardless of the put-down—biodynamic consistently produces quality wine. The Bonterra website explains: "systems function together to create a single living organism: the farm as a whole. We farm our Biodynamic ranches striving to achieve this ideal with as few external inputs as possible. Biodynamic farming is a holistic view of agriculture with high awareness of the interconnectivity between earth, plants, animals, humans, the moon and planets." Don't roll your eyes, here is one of my columns about this approach: Column on biodynamic farming
Click on the link to the Bonterra website (below) to get an even more complete appreciation of Bonterra and its commitment to biodynamic farming practices.
Bonterra Viognier Mendocino County 2016 is correct interpretation of stainless steel, no malo viognier. Very nice fruit presentation; tasty easy drinker; should pair with many foods thanks to good acidity—not such an easy thing to do with viognier, but Bonterra pulled it off in style. Admire the all-in commitment to the environment, enjoy the wine. Pair with shellfish, seafood, roasted or grilled chicken, pork, spicy Asian cuisine, veal, vegetables and salads, and both hard and soft cheese. $14-15