Deep purple, almost black color; strawberry, cherry, violets, rose petals on emphatic nose; strawberry, cherry, sour black cherry, plenty of blackcurrant tang, red berries, leather on the palate.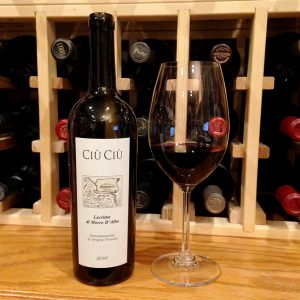 Dry; intensely fruity; low tannin (a characteristic of the lacrima grape); medium body. There is a rustic sharpness to the pour; decanting takes some of that edge off, but this is not a smooth or silky drinker. Its distinctive flavors—I can't think of another wine that tastes quite like this—and acidity means it should pair well with assertive food flavors, especially strongly flavored meats.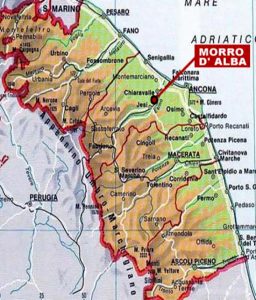 The lacrima grape is rare, grown only in the Morro d'Alba region of the Marche, the easternmost region of Central Italy, between the Apennine Mountains and the Adriatic sea. Lacrima means "the teardrop" in Italian. The grape gets its name from its tear shape or from fact its juice falls like tears when squeezed. Both stories may be true. The grape is ancient; there are references to it in accounts of Federico Barbarossa during his siege of Ancona in 1167. Ancona is the capital of the province of Ancona where Morro d'Alba is located.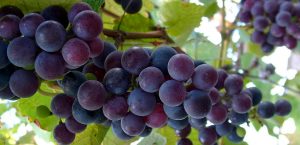 The Ciù Ciù estate started small in 1970, but has grown considerably since then. It is located in the heart of the Piceno hills, at Offida (Ascoli Piceno), in the Rosso Piceno Superiore production area of the Marche. The estate, which produces a wide range of wines including reds, whites, rosés, and sparkling. It focuses on Marche region grapes with its more than 370 acres of vineyards.
The Ciù Ciù name honors the father of the estate founder Natalino Bartolomei (his wife Anna Maria Iobbi was also part of the effort). The father worked on the railroad, so the name is Italian for choo-choo. The estate is named after the sound a choo-choo train makes. Yes, it is that wonderfully amusing. Today, Natalino and Anna Maria's sons Walter and Massimiliano run the family operation.
Ciù Ciù Lacrima di Morro d'Alba 2015 likely is a wine tasting experience you have not yet had. Rustic elements, blackcurrant tang, acidity means this wine is not for everyone—if merlot and malbec are as exotic as you go with reds, you should sip this with caution. But if you are adventuresome and enjoy pairing wine with assertive flavors, this definitely is worth a pour—and a bottle will not make you poor; this is priced so you can pour it down the drain without a wince if you don't like it. I did not even consider that option because I found it intriguing with several qualities to enjoy. Pair with flavorful red meats, cured meats, lamb, pastas with robust sauces, seasoned fish, spicy dishes, hard and flavorful cheeses. $10-11