Medium copper color; strawberry, bread on the nose; strawberry, watermelon, lemon zest, ruby red grapefruit, red apple on the palate.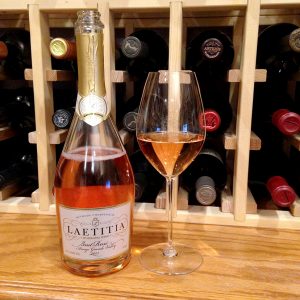 Brut; very good acidity (3.19 pH); lively and crisp in the mouth with murmurs of fruit sweetness on mid-palate and nicely long finish. Large mousse, vigorous and persistent bubbles. Made using méthode Champenoise (now called méthode classique in France and EU); 75% chardonnay, 25% pinot noir, but the pinot noir punches above its weight in this blend.
The Laetitia Estate Vineyards were first planted to grapes in 1982 when French viticulturists found ideal growing conditions for producing wines of similar character to those of their homeland in Epernay, France, in California's Arroyo Grande Valley. Nineteen years later, the property would be acquired by Selim Zilkha, founder of a successful wind power development company and champion of environmental sustainability. Between his qualifications in renewable energy solutions and his passion for the pleasures of the harvest, Selim has developed Laetitia into the home of some of California's highest quality, sustainably-produced wines.
The winery sebsite explains: "At Laetitia, we are passionate about producing premium estate wines that showcase the distinctive qualities of the Arroyo Grande Valley. Located in Southern San Luis Obispo County, our coastal property overlooks the Pacific Ocean. Originally known for Méthode Champenoise sparkling wines, we continue to produce seven unique Sparkling Wines. Currently, we are just as well known for our handcrafted Pinot Noir, Chardonnay and more."
Selim Zilkha was born in Bagdad in 1927. He grew up in Lebanon and then in Egypt. His family emigrated to the United States in 1941. Zilkha earned a BA from Williams College and, after serving in the US Army, worked for his father in the banking business. He was living in England in 1960 when he founded Mothercare, a chain of stores that specialized in everything for the mother-to-be and her baby. Mothercare became a large international success, with shops all over Europe.
In 1982 Selim sold Mothercare and moved back to the United States where he founded an oil and gas exploration company which by the time it was sold in 1998 was the largest acreage owner on the shelf in the Gulf of Mexico. He subsequently founded Zilkha Renewable Energy Company (now Horizon Wind Energy). It was the second largest wind developer in the United States when it was sold to Energias de Portugal in 2007.
Today, Selim's principal business, Zilkha Biomass Energy, has developed a black pellet made from wood which can be used to co-fire or replace coal in coal plants. He also has a farming project in the Yucatan growing jatropha for biodiesel. Selim had always dreamed of farming in California. He acquired Laetitia Vineyard and Winery in 1998. Since then he has considerably expanded it and has worked with president and head winemaker Eric Hickey and vice president of vineyard operations Lino Bozzano, to develop best farming practices to support long-term sustainability.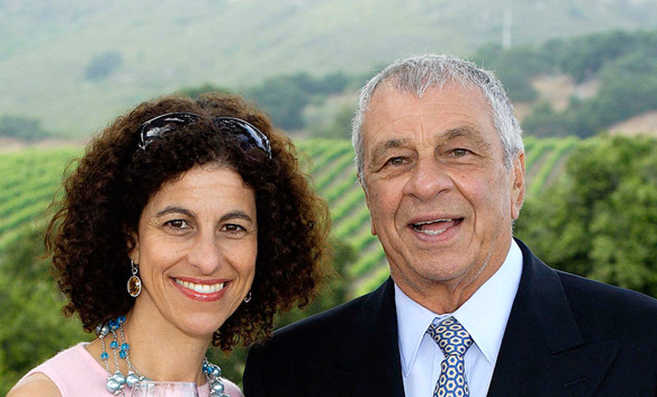 Selim's daughter, Nadia Zilkha, worked in finance, film production, and medical innovation before starting her wine career when her father acquired the winery estate in 1998. The winey website notes: "Nadia has found that the wine industry allows her to express herself not only as a businesswoman, but also as a creative, adventurous artist. A gifted painter and writer, Nadia frequently applies her artistic talents to the further development of each winery brand. Instrumental in branding efforts for both labels, she often consults with the vineyard and winery crew, and can be found representing Laetitia and NADIA wines at national events and conferences."
Laetitia Brut Rosé Arroyo Grande Valley 2015 pleases both the eye and the palate. Extremely fresh and lively, its great color and richness means it can serve very well as an aperitif. Pair with grilled fish, smoked salmon, shrimp, cold cuts, lighter white meats, red fruits, brie-style cheese. $28-36