Deep ruby color; red fruit, plum, redcurrant, oak on the nose; cherry, plum, raspberry, blackberry, chocolate, oak spice on the palate.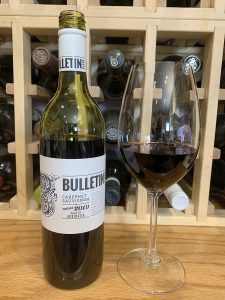 Dry; smooth tannins; juicy, fruity. Very smooth, easy drinker. Medium body; tasty; not as bold as you could anticipate from an Aussie Barossa Valley cab. Relaxed acidity. Sweet oak notes. There is minimal depth and sophistication, but outstanding QPR (quality-price ratio), which makes this ideal for everyday sipper or second bottle; 13% ABV.
Wine comes from South Eastern Australia, Barossa Valley. This is Aussie area noted for lower-priced, commodity wines, and this fits that bill. Same time, this is not plonk. There may not be distinctive high notes, but also are no repellent flaws. Just simple, very serviceable red table wine at entry-level price. Nothing wrong with that at all.
Produced by Calabria Family Wines. The Calabria story began in 1927 when founder Domenico Calabria migrated from southern Italy, followed by his son, Francesco, in 1929. When Francesco saved enough money, his wife, Elisabetta joined him in 1934. The family established their winery in 1945.

A second generation of Calabria joined in the family business in 1951. In 1966, Francesco's son, Bill, took over management of the winery, working with his brother, Tony. In 1970, the brothers released their first wines under the Calabria label. Then came trying times in the 1980s. The website notes: "The Australian wine industry was in the doldrums. A persistent Bill handles the downturn by washing bottles for larger wineries, not ideal but it saved the family business and provided the opportunity to produce wines for the export market in the early '90s when demand for Australian wine grew."
By 1996, Calabria was booming. Bill took production from 280 tonnes to 950 tonnes with enlarged participation in the export market (a metric ton; it is slightly more than a U.S. ton; 950 tonnes is 1,047 US tons). By 2006, the crush reached 8,000 tonnes (8,818 US tons). Emma Norbiato is the chief winemaker today and Calabria Family Wines owns three Barossa vineyards.
Bulletin Place Cabernet Sauvignon 2019 is tasty, smooth, simple everyday winner. Balanced—juicy red and black fruits play harmoniously together. Straightforward, fresh, lively. Commodity South Eastern Australia everyday table wine; an admirable niche this wine fills well. Pair with beef; lamb; poultry; meatloaf, pizza; burgers and sliders; beef stew; comfort food in general. $11-15