Deep ruby-purple color; blueberry, plum, camphor, violets on complex nose; black cherry, red plum, cranberry, dark fruits, baking spice on the palate.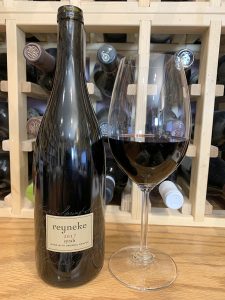 Dry; somewhat rough, rustic tannin—significantly benefits from decanting. Medium body. Mild acidity (3.76 pH). Balanced; 100% syrah; 13.5% ABV. The palate is clean and correct for a young syrah, including syrah's telltale smokey notes. Nicely extended finish. That said about this effort's opening rustic notes, this is restrained syrah compared to a mauling Assie shiraz or some Rhône efforts. You don't get wimpy with syrah/shiraz, and this is not, but it does present the grapes less bombastic side—albeit with some initial rough edges. The alcohol is nicely restrained.
Grapes are handpicked and hard sorted. A third of the clusters are left whole bunch and crushed by foot, which likely is what tones down the overall wine. It also contributes to the green rusticity as the stems impart herbaceous notes. Whole cluster berries are crushed to avoid carbonic fermentation (fermentation inside the berry) at the bottom of the tank. The remaining are de-stemmed then pumped over the whole clusters into concrete tanks.
Spontaneous, natural fermentation. Minimum punch downs and pump overs. Malolactic fermentation in older French casks and large 2,500L foudres means the oak is significantly restrained. Aged 14 months in oak and three months in stainless steel. Bottle aged eight months before release. Nuschka de Vos is the winemaker along with owner Johan Reyneke for this effort.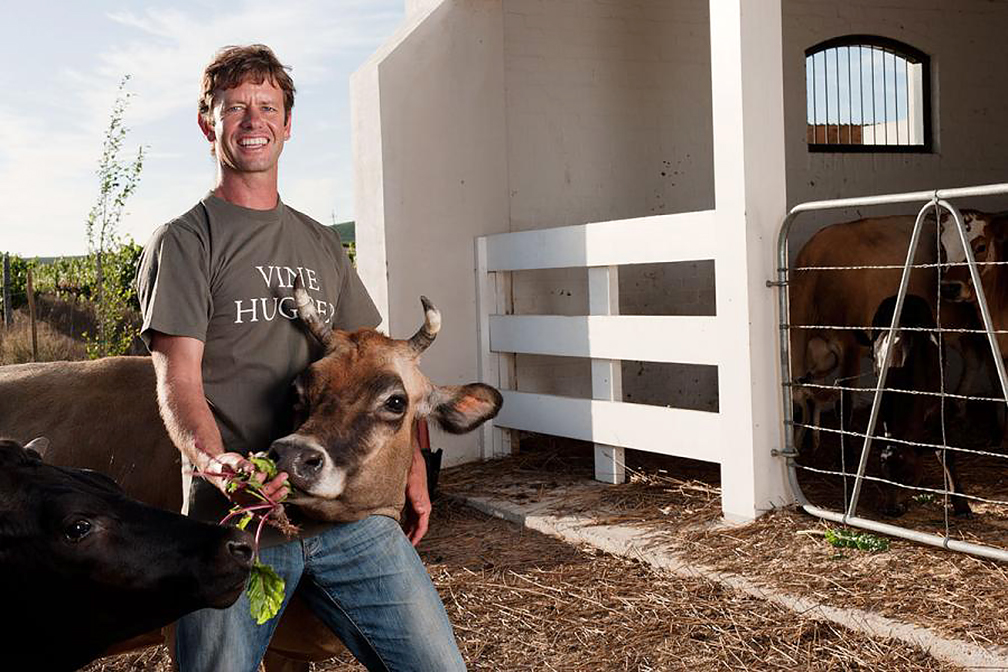 Johan Reyneke is the owner, winemaker and passionate about biodynamics in South Africa. The winery's website: "A biodynamic farm is often seen as an 'individuality'. It needs to be self-sustainable and self-supporting. This is important for two reasons; firstly, to reduce carbon footprint; and secondly, to be less affected by market forces.

"If the farm can produce its own fertilizer and compost, this will mean it's less dependent on trucking-in fertilizer in clouds of diesel exhausts. If the farm is self sufficient, their own cow manure 'costs' the same every day, irrespective of the price of oil.
"This understanding is simply the tip of an harmonious iceberg. Our philosophy of "waste not, want not" runs deep into sustainability. Whatever we use, we carefully think about re-using, re-purposing or recycling."
Reyneke Biodynamic Syrah 2017 is a somewhat rustic, young syrah, but appears to be rounding into its own after three years. Decant this. Smoke and black tea join black and red fruits. Reyneke focuses on expressing his terroir and varietal purity. This effort allows syrah to be syrah, with the focus on tasty fruit and not power and alcohol. Pair with lamb; Asian five-spice pork; Indian tandoori chicken; gyros; roasted and grilled meats; meatloaf, burgers. $27-30