Bright gold color with green hint; flowers, honey on the nose; citrus, lemon, green apple, pear, and delicate herbs on the palate.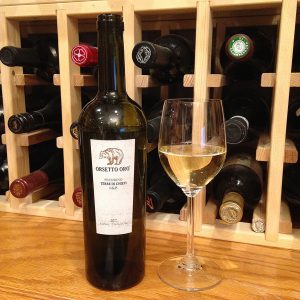 Full bodied for a white, rich in the mouth, very good acidity balances touch of sweetness well. Minerality flirts with saltiness, adding another nice nuance. Once very obscure and almost extinct, the pecorino grape made spirited comeback in the 1990s and now aspires to step up as a richer, heavier-bodied alternative to pinot grigio. It rightly is considered a high-quality grape variety.
Pecorino has a fascinating story and a vexing marketing situation. Pecorino is Italian word for "sheep" or "little sheep"—part of the grape's possible backstory is it got its name because sheep enjoy feasting on the crunchy, sweet grapes. Pecorino also is a tangy hard cheese made from sheep's milk. Interestingly, pecorino wines (such as this one) pair very well with pecorino cheeses (there are six main varieties of pecorino cheese, with Pecorino Romano likely the best known in the United States). So, pecorino is associated with sheep, cheese, and grapes.
Pecorino is primarily grown in Italy's eastern coastal regions of Abruzzo and Marche (this wine comes from Abruzzo—Terre di Chieti IGP is an Italian growing region in Abruzzo established in 1995). Casal Thaulero is important Italian maker with history dating back to the 16th century. Their Orsetto Oro brand and logo is inspired by the Marsican brown bear, the symbol of Abruzzo National Park. Casal Thaulero positioned the brand to be a trendsetter with wines fashioned to a contemporary palate. Here, they achieve that with an unexpected grape variety.
Pecorino vines were thought to be extinct in the mid-20th century, but a producer researching long-forgotten native vines in the 1980s found some still growing in one vineyard. By the mid-1990s, there were enough vines to begin making wine. In the 21st century, the varietal has enjoyed exponential growth, moving also into Umbria and Tuscany, although Abruzzo accounts for 56% of plantings and Marche 40%. The grapes ripen early and are generous with acidity, making pecorino useful in the winery, and also have a high sugar content, also making them useful. Vines do particularly well in high altitudes where there is good sunlight exposure and cool nights. As the world searches for new tastes and new places to grow grapes, pecorino has enjoyed a robust return to wine cellars of folks expanding beyond the varietals you can find in any wine/grocery store in the world.
Casal Thaulero Orsetto Oro Pecorino 2015 likely will be hard to find, but once you taste it you will understand the reason that may be changing. It has a way to go before becoming one of the many "next big things" in the wine world, but the quality and tasty uniqueness of the wine gives it a shot. Look for this. If you can't find this bottle, at least try a pecorino from some maker—the wine, not the cheese or the sheep (although the cheese is good and lamb, too, so you could go for a pecorino potlatch). $10-13
Other photo: Casal Thaulero vineyard overlooking the Adriatic Sea