Pale salmon color; cherry, raspberry on the nose; cherry, red plum, raspberry, spice, white pepper on the palate.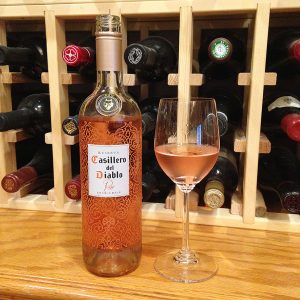 Dry; medium body, nice acidity, refreshing. Certainly approachable, uncomplicated, lacks fruitiness and carries some astringency and herbaceous notes from mid-palate to finish. This makes it a challenge to work as an aperitif or solo sipper, but the acidity and whiffs of sour cherry should make it play well with food, from creamy goat cheese to grilled fish or cold pasta salad.
Primarily made with shiraz grapes—earlier vintages were labeled shiraz rosé—it now also includes cinsault and carménère. The carménère likely contributes the green bell pepper elements you catch after the initial attack. Wine benefits from time in glass/exposure to air, mellowing out some, but you still taste the sour cherry on the finish.
Casillero del Diablo is brand of Concha y Toro, Chile's biggest winemaker and an important player on the world wine stage. Don Melchor de Santiago Concha y Toro founded the winery in 1883. When he saw that some of this best wines disappeared from the cellar a few years later, Don Melchor decided to put an end to thefts by creating the story that the devil lived in the cellar, which was in the deepest and darkest part of the winery. The Casillero del Diablo rumor spread. Some claimed to have actually seen diablo (the devil). The thefts stopped. Today, the legend lives on more as a marketing ploy than a play to frighten would-bed cellar robbers.
Concha y Toro, BTW, is Spanish for "shell and bull." The Casillero del Diablo story may contain some elements of bull, but the wines consistently are very drinkable values and Chile—and Argentina on the other side of the Andes—are major contributors to the exquisite abundance of quality wines in the world today.
Casillero del Diablo Reserva Rosé 2016 is best paired with food. Carries some greenness and sour cherry through to the finish. Serve well-chilled. Nicely priced, widely available. $10-12