Deep, inky purple color; blackberry, cherry, plum on the nose; plum, black cherry, blackberry, blueberry, menthol, boysenberry on the palate.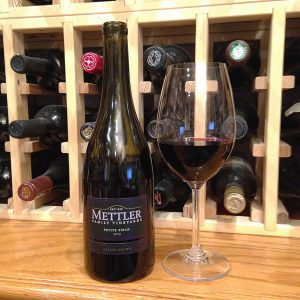 Smooth and polished, especially for a petite sirah (aka durif—a cross between syrah and pelourisin from southwestern France that found its home in California and certainly in Lodi, where this comes from). The warm temps of Lodi bring out the big fruit and boldness of petite sirah (and zinfandel, with which it is often blended). This is dry, full bodied, with polished tannins that showcase the ripe, dark fruits. Thanks to Lodi ripeness, this saunters in at 15.5% ABV from 90% petite sirah grapes, 7% cabernet sauvignon, 3% cabernet franc. By mid-palate and beyond, drip of honey, chocolate, and the blueberry comes into play. Lush and delicious, but remarkably not hot (hot=sensation of alcohol) even on the finish.
Lodi once was a backwater of California winemaking, located in the northern part of the great California Central Valley, in San Joaquin County, and known for its juicy, high alcohol zinfandels. The Mettler family has been part of Lodi wine for more than a century and five generations. They, along with makers such as Michael and David Phillips (Michael David Winery), turned that backwater image around in same way Paso Robles to the south has done. Once regarded as mass producers of plonk, they adroitly molded grapes and techniques to their special circumstances. Lodi now produces wines of genuine quality at prices everyday drinkers can manage. What a concept. We will let Napa—and increasingly Sonoma—make wine for the rich and nouveau riche, while clever and talented grape farmers and winemakers to the south do delicious, approachable wines for the rest of us.
The Mettler family has grown grapes in the Lodi appellation since the late 1800s. In the 1940s, sixth-generation grape grower Carl Mettler married Gladys Handel, who also was from a well-known farming family. Carl's dedication to discovering varieties and methods that fit in Lodi earned him a spot in the Agricultural Hall of Fame. Today, his son Larry Phillip Mettler still farms the original Mettler Vineyards. The three children of Larry and his wife, Charlene—Kimberly, Kelli, and Ada—carry on the family tradition. The website states: "Family pride and old world values have remained with our family through eight generations of grape growing—including six generations in the Lodi area." Mettler Family Vineyards consistently delivers on that mission statement, to wine drinker's hallelujah.
All Mettler vineyards are certified sustainable and certified organic. "As farmers—and as a family—we hold a fundamental belief in giving back to the land, to maintain its bounty and nourish the soil to last for many generations to come," the Mettlers assert. How could any farmer feel otherwise? Celebrate wise vine choices.
Mettler Family Vineyards Petite Sirah Estate Grown 2013 is a delicious, easy drinker—especially given its power and alcohol content. Smooth tannins complement rather than compete with the rich, dark fruits. Plum good tasting wine, thanks to the up-front plum and black fruit elements. Shows you what Lodi can do when Lodi does what it does best. Well worth a taste to see if it suits your taste. $22-25
Mettler Family Vineyards website