Medium salmon-rose color; strawberry, cherry, flowers on the nose; cherry, watermelon, pink grapefruit and pink citrus, strawberry on the palate.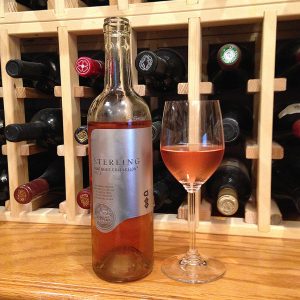 Dry; good acidity; light-medium body; reserved fruitiness—this is not sweet, fruity rosé, but there is enough fruit to show the watermelon and strawberry notes. Crisp, refreshing, can stand on its own as a solo sipper around pool or backyard when well chilled; the good acidity and reserved fruitiness will play well with food ranging from shellfish, scallops, grilled chicken, charcuterie (pork and chicken).
Made with syrah, tempranillo, and zinfandel fruits gathered from throughout California, but syrah and tempranillo from Edna Valley in the Central Coast provided most of the juice.
Sterling Vineyards began when British international newspaper owner Peter Newton broadened his company's business interests by purchasing land near Calistoga in Napa Valley in 1964 and established the vineyards. In quick succession, he purchased more land and, in addition to cabernet sauvignon, planted merlot (then virtually unknown in Napa), chardonnay, and sauvignon blanc.
Bottling began in 1969, including California's first vintage-dated merlot. In 1971, Martin Waterfield—an officer in Newton's company—designed a Mediterranean-style white stucco winery complex inspired by structures on the Greek island of Mykonos, where Newton once lived. Today, the complex is one of the most-visited in Napa.
The Newton family sold the winery and vineyards to Coca Cola in 1977. In 1982, Coke sold the operation to Joseph E. Seagram and Sons, and Sterling quickly became the crown jewel of Seagram's wine efforts. Between 1982 and 2000, Sterling's yearly sales jumped from less than 60,000 cases to 400,000. Even better, quality improved.
In 2001, Diageo—a United Kingdom drinks conglomerate—purchased Seagram and mixed Sterling into its existing wine business. In 2015, Diageo sold most of its wine business to Treasury Wine Estates, an Australian-based global winemaking and distribution operation that traces its roots to Penfolds Wine and Foster's Group beer brewers.
Treasury is a major international player in the wine world, making wine in 12 countries, selling more than 35 million cases of wine a year, and generating sales of more than $2 billion in sales. Labels you may recognize beyond Sterling include Stag's Leap, Beaulieu Vineyard, Beringer, Chateau St. Jean, Greg Norman Estates, Lindeman's, Wolf Blass, and their flagship—Penfolds. That represents lots of changes and marketing directions for Sterling. Treasury tends to focus on commodity wines sold in supermarkets and mass-market liquor-beer-wine stores, which is where Sterling largely resides today.
Sterling Vintner's Collection Rosé 2016 works as a summertime daytime sipper and as food pairing pour. Watermelon and strawberry are most prominent fruit flavors, but this is not a fruit-forward wine, nor a sweet rosé. Competently made, nicely priced, widely available. $11-12