Deep ruby color; dark cherry, blackcurrant, light oak on the nose; plum, black cherry, blackberry, tobacco on the palate.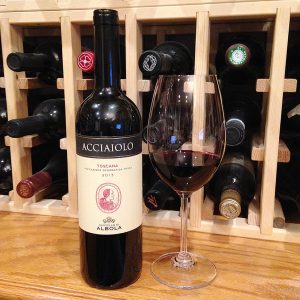 Dry; dense and powerful with dusty tannins with a bit of bite on the finish that decanting easily solves. Wonderful plushness in the mouth with delightfully broad layers of fruit that decorously and elegantly present themselves. This is not a big, bad red that slaps your palate around and demands you acknowledge its presence. Blend of 70% cabernet sauvignon and 30% sangiovese—the sangiovese tames the cab in the manner merlot does in Bordeaux. Both grapes add a nice blackberry element that I catch more on the mid-palate and finish than the initial attack.
Castello d'Albola only produces this wine in exceptional vintages, so hurrah for 2013. This is drinking nicely four years later, but you could enjoy this a decade from now with the tannins tamed and smoothness enhanced. The blend percentages change according to the vintage—just two years earlier, this wine was 65% sangiovese and 35% cabernet sauvignon, for instance. In any event, the efforts consistently score above 90 points from major experts if wine ratings are among your lodestones when buying wine (especially in this price stratosphere).
The Castello d'Albola estate is located in Radda, in the heart of the Chianti Classico DOCG (thus the sangiovese). The history of winemaking in the region dates from the time of Etruscans hundreds of years before Christ. The Acciaiuoli family ("Acciaiolo" is Italian for "steelworker", by the way) first planted vineyards on the estate in the 1400s, presumably after the family switched from steel to gapes. The Zonin family acquired the property in 1979 and further developed it, promising to built on the legacy. They have.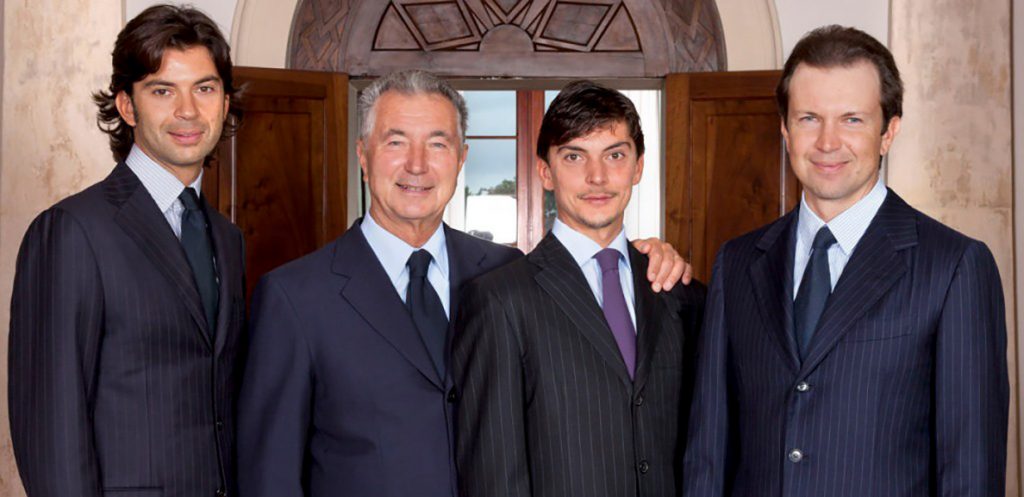 Established in 1821, the family-owned Casa Vinicola Zonin is Italy's largest privately-held wine company. Its principal wine facility is located in Gambellara (halfway between Verona and Venice) in the province of Vicenza, the ancestral home of the Zonin family. "Commendatore" Domenico Zonin put the winery on the world map; born in 1899, he lived to be 101, a lifetime spanning three centuries. Gianni Zonin next led the company; he emphasized a green approach to ecologically sustainable viticulture and control of the wine process from vineyard to distribution. In 2014, leadership shifted to Gianni's sons Domenico, Francesco, Michele, and Giuseppe.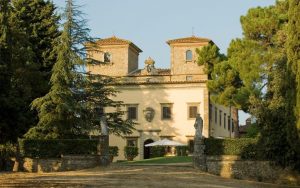 The Castello d'Albola, the showcase Zonin property, is considered among the finest examples of Tuscan Renaissance architecture. While the Zonin family owns vineyards across Italy, Castello d'Albola is their star estate; it is located about 30 miles south of Florence and 22 miles north of Siena.
Castello d'Albola Acciaiolo Toscana IGT 2013 is an elegant, well-behaved big red wine with multiple layers of dark fruit pleasures. Pair this with any red meat, pasta with tomato-based sauce, grilled vegetables, many cheeses. $63-90