Pale straw with hint of green; vibrant citrus, flowers on the nose; very fruit forward with apricot, lemon, nectarine, stone fruits on the palate.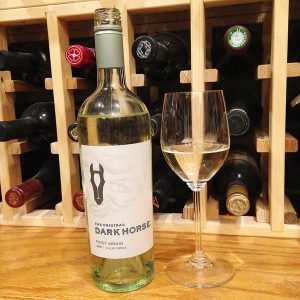 Dry; crisp with excellent acidity (3.37); very ripe fruits give illusion of sweetness, but just 3 g/L residual sugar. Blend of 76% pinot grigio, 15% un-oaked chardonnay, 2% viognier, 7% other varieties assembled by winemaker Beth Liston from various California vineyards. There is creamy quality to this light-in-the-mouth, fruit-forward effort.
Dark Horse is a Gallo brand, and Gallo certainly knows how to produce crowd pleasers. This is no exception. It is a very respectable, California take on pinot grigio at a superb price point. One of the reason's Gallo launched Dark Horse was to present very approachable wines in the $8-10 price range, hoping to show you can enjoy good wine for less than $10. That may be the backstory to the name: a "dark horse" is something people do not think will win, but may do so anyway. Dark Horse is a winner in its value wine niche.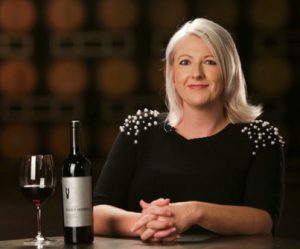 Dark Horse represents a Gallo tactic of building a brand around a winemaker (Tom Gore is another). In this case, Beth Liston is a big, brassy personality, dirt on her palms, tattooed, an entertaining risk taker. It is worth a visit to get to know her with this video link into the Dark Horse website: Beth Liston video link
The wine originally was slated as a Trader Joe's exclusive, but now has national distribution. Dark Horse makes the standard consumer-focused array: cab, merlot, big red blend (grenache and barbera), pinot noir, chardonnay, rosé (five grapes, led by grenache), and sauv blanc in addition to this pinot grigio.
The Original Dark Horse Pinot Grigio 2016 is an easy-going, crowd pleasing California pinot grigio. Don't ask it to be more than it is and you certainly will be happy with the pour. Pair with light seafood, shrimp, pasta dishes with cream sauces, chicken prepared just about any way, spicy foods, sushi. $8-10