Dark ruby color; cherry, leather on the nose; red cherry, sour cherry, strawberry, roasted tomato, raspberry on the palate.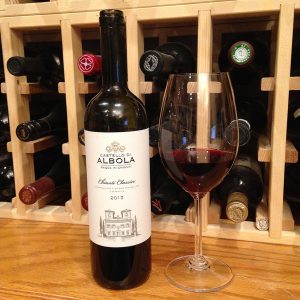 Vibrant with some pepper and spice; clean mouthfeel but with chewy density; good acidity and smooth tannins; wonderfully easy drinker. As sangiovese—the grape used to make Chianti—ages smoothness and mellow emerge. This aged at least two years in large Slovakian casks (thus, the classico designation). Decant the bottle, and the result is even more vivid.
When I pop-and-pour, which is how I usually taste the first glass because that is what many people do, this wine has rustic elements and a hint of harshness. When I run it through the best decanting system on the market—Wine Breather Design by Norm, from the Danish company Menu—the result is remarkable. The wine has complexity, great fruit, impressive length.
The Castello d'Albola estate is located in Radda, in the heart of the Chianti Classico DOCG. The history of winemaking in the region dates from the tiem of the Etruscans hundreds of years before Christ. The Acciaiuoli family first planted vineyards on the estate in the 1400s. The Zonin family acquired the property in 1979 and further developed the property.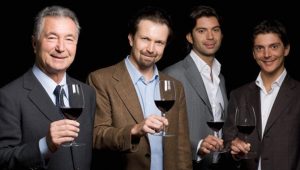 Established in 1821, the family-owned Casa Vinicola Zonin is Italy's largest privately-held wine company. Its principal wine facility is located in Gambellara (halfway between Verona and Venice) in the province of Vicenza, the ancestral home of the Zonin family. "Commendatore" Domenico Zonin put the winery on the world map; born in 1899, he lived to be 101, a lifetime spanning three centuries. Gianni Zonin leads the company today; he emphasizes a green approach to ecologically sustainable viticulture and control of the wine process from vineyard to distribution.
The Castello d'Albola, the showcase Zonin property, is considered among the finest examples of Tuscan Renaissance architecture. While the Zonin family owns vineyards across Italy, Castello d'Albola is their showcase.
Castello d'Albola Chianti Classico 2013 is seriously good wine that greatly benefits from decanting, rewarding the effort by unveiling complexity, great fruit, and impressive length. $16-19
Zonin website: http://zoninusa.com/estate/castello-dalbola/
Photos: Castello d'Albola; Castello d'Albola vineyard; Zonin family, Gianni is on the left