Dark magenta color with translucence; ripe red cherry, candy, oak on the nose; jammy blackberry, touch of red currant, cherry, plum, chocolate, toasted oak on the palate.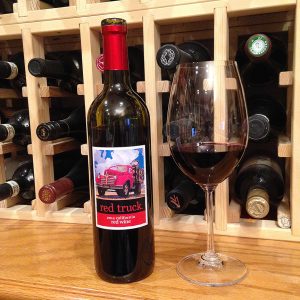 In its current iteration, Red Truck Red is a simple, easy drinking wine with red truck loads of ripe fruit sweetness; smooth with almost no tannin and low acidity (3.63 pH). Blend of 40% syrah, 30% petite sirah, 15% cabernet dorsa, 10% malbec, 5% petite verdot combine to make a commodity red wine with sweetness and price to attract an audience that likes its wine fruity sweet and cheap. Time in air, decanting, or pouring from the bottle on the second day reduces the slightly jarring jammy notes when popped-and-poured and smooths out and integrates the swarm of ripe fruit flavors.
Red Truck Wines began when Fred and Nancy Cline of Sonoma Cline Cellars—famous for quality zinfandels—purchased a painting of a classic, old red truck by internationally renowned, Sonoma-based artist Dennis Ziemienski. The painting inspired a label that inspired a wine that was a blend of mourvèdre, syrah, cabernet sauvignon, cabernet franc, alicante bouschet, and pinot noir in its first vintage; none of those grapes are in the 2014 effort. The Cline wine enjoyed impressive success as mid-level effort and achieved scores as high as 88 from Wine Spectator in 2002 (the first year of production). Then things became complicated.
In 2005, the Clines sold Red Truck to Dan and Katy Leese, founders of 585 Wine Partners, and over the next five years 585 Wine Partners became one of the nation's fastest growing wine companies. 585 Wine Partners had a silent business partner, Fred Franzia—the hyper-aggressive businessman behind the bulk wine maker Bronco Wine Company, most notably famous for "Two Buck Chuck." In 2010, Franzia ousted Dan and Katy Leese from 585 Wine Partners in what the wine press called a "coup." Franzia's specialty is wine that costs less than $10 a bottle, and Bronco upped production of Red Truck and changed its direction to being a less-expensive commodity pour made from grapes cobbled together from Bronco's 45,000 acres of vines.
Red Truck Red Wine 2014 is a simple, inexpensive commodity pour. There is a saying in the wine industry: "Nobody ever went broke underestimating the American taste for sweet wines." Bronco and Red Truck will not go broke. $9
Photos: Original label adapted from Ziemineski painting; Artist Dennis Ziemienski