Deep garnet color; cherry, sour cherry, black fruit, plum, vanilla, earth on the nose; tart cherry, graphite-flint, roasted tomato, dark spice, earth on the palate.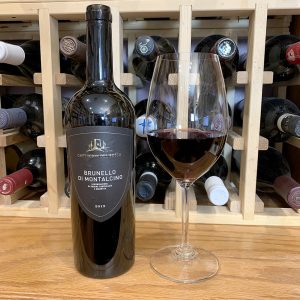 Dry; vivid fruits; significant, firm, fine-grained tannins—decanting recommended. Rustic elements initially because, for brunello, this is young. After decanting, tannins and rusticity become minor notes to a well-directed, rich, darker fruit assault. By the second glass and more air, there is grace and elegance. Patience rewarded. Medium-full bodied. Very good balancing acidity—2015 was a cold year in Tuscany. Tart cherries prevail on a long, intense finish; 14.5% ABV.
Farming is organic. Winemaking is minimal intervention. Fermentation by natural yeasts with individual lots, which are blended to achieve the final product. Aged in French oak barriques and casks for 24 months. Given the background respectful notes of oak, a significant part of the oak program must have been used barriques or large casks. The oak influence is appropriate and subtle. Brunello di Montalcino must age three years in bottle before release, so this 2015 effort is just available and will improve in cellar if you exercise restraint.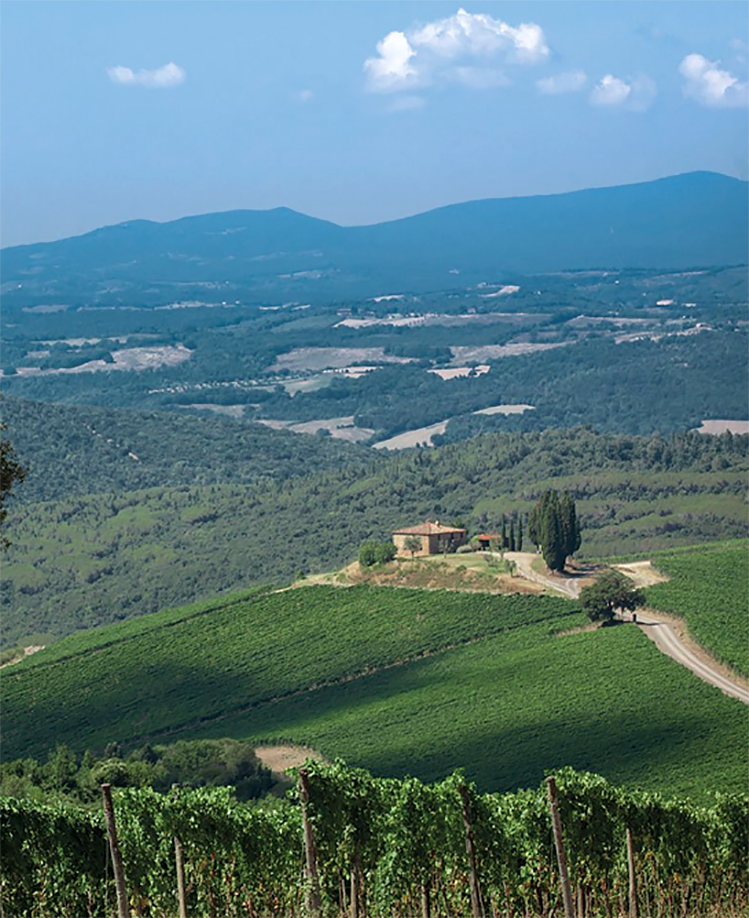 Brunello di Montalcino comes from vineyards surrounding the Tuscan town of Montalcino, 70 miles south of Florence. By legal requirement, it must be made with 100% of sangiovese grosso, a specific clone of sangiovese. Brunello di Montalcino is one of Italy's best known and most expensive wines with a history dating back to the 1300s. The Montalcino region was the first region to achieve Denominazione di Origine Controllata e Garantita (DOCG) status, Italy's highest recognition of quality. Castiglion del Bosco is the fifth-largest producer of Brunello di Montalcino.
Castiglion del Bosco (Italian for "Castle in the Woods") history dates back to 1100 AD. Life moved forward in ancient rhythms, as the website notes: "Agriculture always played a prominent role on this great estate: for over 800 years now, Castiglion del Bosco has been flourishing within the same boundaries, almost as a world apart. Here still stand its borgo [village], its school and stables, its crops and fields, its vineyards and olive groves."
Fashion moguls Massimo and Chiara Ferragamo purchased the 5,000 acre Castiglion del Bosco estate in the far northwestern sector of Montalcino in 2003. The youngest scion of the Salvatore Ferragamo fashion house and chairman of Ferrgamo USA, Massiomo turned a passion for wine into his second career. Massiomo and his wife restored elements of the estate, built a new winery, created an impressive resort at the location (with Italy's only private golf course), and instituted a program to bring their brunello di Montalcino to world-class status. This bottle is example of their success.
Massimo Ferragamo: "I arrived at Castiglion del Bosco one cool, sunny morning in 2001. I was so incredibly moved by the limitless views, by the Brunello vineyards as well as the scenery that can only be found in the Val d'Orcia: I had no idea that such a beautiful corner of Tuscany still existed. It was love at first sight."
Castiglion del Bosco Brunello di Montalcino DOCG 2015 is impressive effort from ancient wine property invigorated by a world-known fashion family. Decanting removes an outer garment of rusticity and assertive tannins to reveal a dark-fruit delight of elegance and grace. Brunello di Montalcino promises a pinnacle pour, and Castiglion del Bosco delivers on the promise. You can enjoy this as a "cocktail wine" sipped solo or with charcuterie.
Food pairing includes rich red meats, especially tasty wild game braised or roasted; turkey stuffed with prunes; chianina rib steak; cheeses such as provolone del Monaco, mature Parmigiano Reggiano, pecorino. There is a pairing rule of thumb: pair great wine with great food and simple wine with simple food. Brunello is great wine. It does not do well with grilled meats (velvety mouthfeel of the wine clashes with slight bitterness and carbonized elements of charred meat); certainly not pizza or burgers; not with fish unless the fish is rich flavored and heavily seasoned. $55-64