Lemon-yellow color with hint of green; lemon, citrus, pear, bread on the nose; lime, pear, spice, lemon, citrus, yellow apple, brioche on the palate.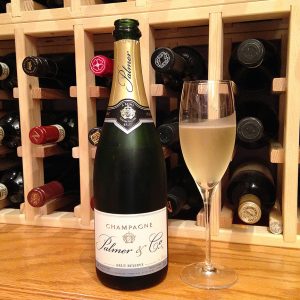 Classic Champagne blend of 50-55% chardonnay, 35-40% pinot noir, 10-15% pinot meunier; up to 35% of the juice comes from reserve wines with 50% sourced from grand cru or premier cru vineyards. Fresh, bracing acidity, extremely fine and impressively vigorous bubbles. Very clean, precise flavors thanks to the tart acidity; nice length and balance.
Champagne Palmer is a cooperative founded in 1947 as Producteurs des Grands Crus de Champagne by seven growers in Avize. The company moved to its present home in Reims in 1959. Today, the co-op sources its grapes from more than 350 growers farming some 1,000 acres in virtually every sub-region in Champagne. Constant growth of the business is a characteristic of the company. In the 1990s, Palmer acquired a "vast network of cellars and fermenting rooms from a neighbouring Champagne house" to expand its presence in Reims.
Palmer pushes hard for quality, from modern grape presses and winery to aging on the lees for their non-vintage (entry level) wines for three-to-four years. The legal minimum aging for non-vintage Champagne is 15 months and three years for vintage, so Palmer matches or exceeds the legal minimum of vintage wine even in its non-vintage efforts such as this one. They age their vintage wines on the lees for five-to-eight years, and their vintage magnums for a minimum of 10 years. That is one of the reasons for the riot of bubbles; it is unlikely there is any other widely available, entry-level Champagne that exceeds the quantity and length of this perlage.
Palmer sometimes is called "the best Champagne house you have never heard of." It is astonishing to get a Champagne of this quality at what is, for Champagne, a value price. $52
Champagne Palmer & Co. website