Deep ruby color; blackberry, black cherry, plum on the nose; dark fruits, blackberry, black cherry, blackcurrant, plum, cedar, tobacco, earth on the palate.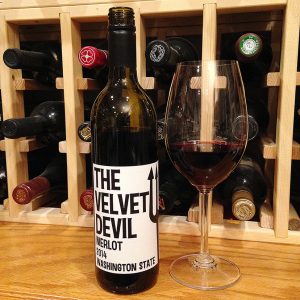 Dry; light tannins, very smooth, polished, and velvety mouthfeel with restrained acidity (3.82 pH). Some oak—30% new French with 10 months barrel aging with stirring on the lees. Blend of 94% merlot, 3% cabernet sauvignon, 2% malbec, 1% cabernet franc, but merlot absolutely dominates.
Winemaker Charles Smith is a self-taught wine wunderkind. He started K vintners to make Charles Smith Wines in 2006 with the goal of creating wines in Washington State that would be enjoyed now, soon after release, and also were true to the varietal grape and the vineyard, and particularly targeted to millennials in its marketing and flavor profiles.
Wine & Spirits named Smith's K Vintners "Best New Wineries of the Last Ten Years" in 2008 and as "Winery of the Year." Food & Wine named Smith "Winemaker of the Year" in 2009. Seattle Magazine named Smith "Winemaker of the Year" in 2010. Wine Enthusiast named Smith "Winemaker of the Year" in 2014. Whew. That is a lot of big-time baubles early and quickly in a career. In late 2016, Smith cashed in by selling some of his brands to Constellation Brands, world's largest winemaker, for $120 million. Smith remains as a consultant to the brand and retained ownership of K Vintners, makers of the wine.
In addition to Charles Smith Wines, other Smith-founded brands include Sixto, Charles & Charles, Vino, Wines of Substance, Secco Italian Bubbles, and Casasmith. Click K Vintners link below to a neat opening video with Charles Smith laying out his mission, plus other entertaining videos.
Three tasting rooms demonstrate Smith's Washington embrace: Charles Smith Wines Jet City is located next to main runway of Boeing Field in Seattle, Downtown Walla Walla is located in converted auto-repair warehouse and invites sidewalk seating in Walla Walla, K Vintners Tasting Room is located at the base of the Blue Mountains on historic farmland homesteaded in 1853 and adjacent to a farmhouse built in 1872.
Charles Smith The Velvet Devil Merlot Washington State 2014 is table wine that is right for the price rather than exciting or distinctive. Those who enjoy soft and non-threatening will enjoy this. The winemaker's target clearly was velvet, and that clearly was achieved. Velvet Devil will pair with burgers, roast chicken, crock pot beef strews, meatloaf, lamb, day-old pizza, and comfort foods in general thanks to this very laid-back style. $10-13