Medium straw color with green hints; orchard fruit, spring flowers on the nose; green apple, honeydew melon, citrus, pear on the palate.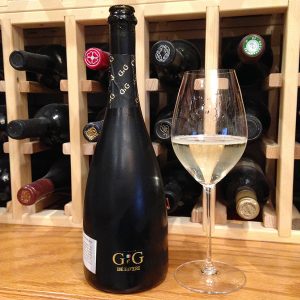 Dry, almost off-dry (9 g/L RS), with excellent fruitiness; good, balancing acidity; vigorous, tiny bubbles.Very nice tangy quality on the finish. Produced using Italian method (Martinotti/Charmat) where secondary fermentation occurs in a stainless steel autoclave using natural fermentation (the standard method for prosecco) rather than in the bottle as it is done in Champagne. 100% glera grapes from the De Faveri vineyards in Valdobbiadene and Vidor.
Lucio and Mirella De Faveri started the winery in 1978 with intent to blend modern techniques without abandoning ancient traditions. They expect their children Giogia and Giordano to continue the tradition; the website notes: "guaranteeing and bequeathing high professionalism, which the De Faveri family consistently ensures." The GeG label likely refers to the two children, although the website does not assert this.
De Faveri GeG Millesimato Valdobbiadene Prosecco Superiore Brut 2015 is delicious, very well made example of why prosecco is such great value and why sales have exploded in recent years. This will pair with almost anything, just like Champagne; prosciutto, cream sauces, seafood, spicy Asian, movie theatre popcorn. $16