Pale-medium copper color; white peach, tangerine, flowers on the nose; white peach, strawberry, cantaloupe, tangerine, orange zest on the palate.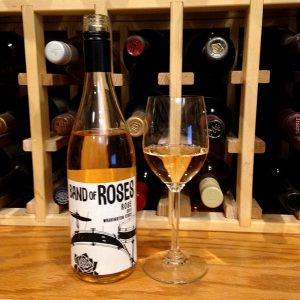 Dry; very light, crisp, vibrant; very easy drinker. Made with 100% pinot gris from four different vineyards: Art Den Hoed—south slope of the Rattlesnake Mountains in the Yakima AVA; Shaw—White Bluffs area on the east side of the Columbia River; Evergreen—vines on steep cliffs above the Columbia in Washington's newest AVA, Ancient Lakes; Roza Hills—natural bowl on the southern slope of Rattlesnake Hills.
Lightly crushed grapes spent up to two days on the skins to achieve pleasing color and some depth. Fermented in stainless steel for about three weeks, followed by two months on stirred lees. Silky mouthfeel; good acidity; refreshing; 12.5% ABV.
Winemaker Charles Smith is a self-taught wine wunderkinder. He started out managing rock bands, including the famed Danish duo The Raveonettes. In 1999, while on a road trip to Walla Walla, WA, he met a winemaker who convinced Charles to start making his own wine. In 2001 he released 330 cases of his first creation. Eight years later, he was named winemaker of the year by Food & Wine magazine. Seattle Magazine named Smith "Winemaker of the Year" in 2010. Wine Enthusiast named him winemaker of the year in 2014.

That is a lot of big-time baubles early and quickly in a career. In late 2016, Smith cashed in by selling his brands to Constellation Brands, world's largest winemaker, for $120 million. Smith remains as a consultant to the brand and retained ownership of K Vintners.
In addition to Charles Smith Wines, other Smith-founded brands include: Sixto, Charles & Charles, Vino, Wines of Substance, Secco Italian Bubbles, and Casasmith. Designer Rikke Horff, a longtime friend of Smith, designs the labels for Charles Smith Wines.
Three tasting rooms demonstrate Smith's Washington embrace: Charles Smith Wines Jet City is located next to main runway of Boeing Field in Seattle; Downtown Walla Walla is located in converted auto-repair warehouse and invites sidewalk seating in Walla Walla; K Vintners Tasting Room is located at the base of the Blue Mountains on historic farmland homesteaded in 1853 and adjacent to a farmhouse built in 1872.
Charles Smith Wines Band of Roses Rosé, Washington State 2017 is classic summer sipper on patio, deck, porch, poolside served ice cold. It also could work as an apéritif any time of the year. Will especially be appreciated by those who enjoy light, non-assertive wines with delicious fruit, no tannins, tame acidity. Pair with light salads, light pasta, rice dishes, seafood, shellfish, chicken. Pinot gris and rosé wines pair with very wide range of foods, and this fits that generalization nicely, especially with lighter fare. $11-13