Medium ruby color; cherry, raspberry, strawberry on the nose; dark cherry, cranberry, blueberry, raspberry sauce, plum, cola, licorice on the palate.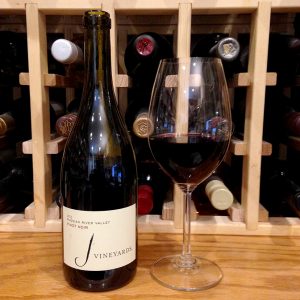 Dry; medium-full body; plush texture; fruit-forward. Reserved oak adds whisper of vanilla. Light, sweet tannin; malolactic fermentation in French oak and acidity make this easy in the mouth, balanced. Smoothness and correct fruit dominates in this effort; could use a skosh more acidity. Lighter than many California and Russian River Valley efforts, which is a plus on my palate. Improves with air, revealing more complexity; decanting suggested; 14.3% ABV.
Unlike previous efforts, this is not labeled "Estate Grown," meaning it comes from J Vineyards more than 300 acres—one of the largest holdings in the Russian River Valley—around Healdsburg, California, but some of the fruit also must come from other growers in the Russian River Valley. This is J Vineyards's "entry level" bottling, which demonstrates a very high bar for entry. J Vineyards also makes single-block, estate grown pinot noirs at prices in the $60-plus range.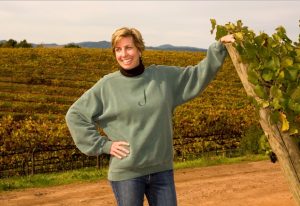 Judy Jordan—the daughter of Jordan Vineyard & Winery founder Tom Jordan—created J Vineyards & Winery in 1986 to specialize in sparkling wine, but she then moved into pinot noir, chardonnay and pinot gris still wines. Wine world celebrates that decision.
In 2015, Gallo purchased Jordan's operation because, Judy explained: "the winery kept getting bigger and bigger, and it was more and more pressure with operations, and I was getting further and further away from what I particularly love, which is geology, terroir and the vineyard–because I was running a big company."
This is the first vintage grown under Gallo's ownership. I do not know Judy Jordan's participation, but this does not earn the rave reviews I gave the 2014 Judy Jordan effort. This is not a bad wine, it just is not as good as the previous year. Vintages matter, and the fact this is not 100% estate grown indicates there may have been some struggles, or Gallo wanted to amp up production. We shall see. The finish is disappointing when compared to previous efforts. Again, not failure, but not up to standards of previous vintages I have reviewed.
Judy said she sold to Gallo because it is a family-owned business that shares her core values. Gallo knows how to run a big company (they are the largest family-owned wine operation in the world), and fortunately know how to allow wineries that do things right—which is why they were attractive properties in the first place—to continue to do things right. Pray that happens at J, because J Vineyards historically has created really nice wine. Stay tuned; we shall see.
J Vineyards & Winery Pinot Noir Russian River Valley 2015 is fruit-forward, smooth, balanced, complex, with subtle elements that manifest best after some air. I suggest decanting, although this works on pop-and-pour. A bit hot (14.3% ABV) for perfect food pairing, but that is matter of your taste. Pair with seared salmon; roast turkey; gorgonzola dolce; lighter red meats. $32-44