Medium yellow color; subtle flowers, stone fruit, lime on the nose; apricot, Meyer lemon, honey, grapefruit, peach, pear on the palate.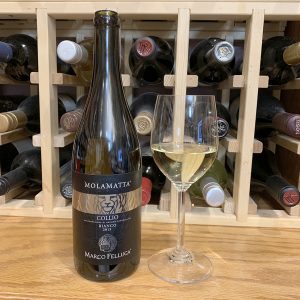 Dry; light-medium body; bright acidity and minerality. Blend of 40% pinot bianco; 40% tocai friulano; 20% ribolla gialla. Nice fruity sweetness after four years in the bottle. Hint of oak from the pinot bianco fermented and matured in small oak barrels, while the other fruit vinified in stainless steel. The wine spent six months on the lees to add nice complexity and depth; 13.5% ABV
Creamy texture plays well with the fruity-honey elements. This comes from the Colio DOC. The vineyard is 12 miles from the Adriatic Sea; chilling winds from the Alps provide the diurnal shift grapes embrace. The Friuli-Venezia-Giulia region in northeast Italy, bordered by Austria, Slovenia, and the Adriatic is best known for prosecco, but—as this effort clearly demonstrates—it also produces outstanding whites.
The vineyard-winery operation dates to the second half of the 1800s. In the 1930s, Giovanni Felluga moved to Friuli and the Colio regin. Marco, the sixth of Giovanni's seven children, continued in the business and founded the company with his name in 1956. Today, his son, Roberto, represents the fifth generation of winemakers and leads Marco Felluga in Gradisca d'Isonzo (Gorizia) and Russiz Superiore in Capriva del Friuli (Gorizia).
Marco Felluga Molamatta Collio Bianco 2015 is a delightfully complex white from Collio region of northeast Italy. There is acidity, but also a fruity-honey element on the mid-palate, at least after four years in the bottle. Too many people think red wines are deep and complex, while white wines are one-dimensional. That misconception is not true for red, whites—and rosé, for that matter—as this effort reinforces. Pairs with fish, seafood, shellfish; garden salads; with its fruity sweetness and body, also can work as an aperitif or solo sipper at your next book club, bridge, or mah-jongg get together. $26
Marco Fellgua website (Italian, but you can click for English)
No photos available.