Pale gold-salmon color with hints of light rose petals; peach, flowers on the nose; peach, apple, strawberry, raspberry on the palate.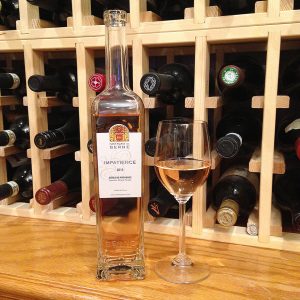 Light, crisp, clean ripe fruit flavors; bone dry with good acidity and minerality; slight tannins add interest in the middle; fades fairly quickly on the finish. Blend of 70% grenache, 30% cinsault.
Château de Berne is a 300-plus-year-old estate and winery that now also includes a four-star Relais & Châteaux hotel and restaurant. British businessman Mark Dixon purchased the estate (and two others) and initiated extensive renovations in 2009. Like the wine, really enjoy the venue.
The Provence region is west of Monaco and Languedoc-Roussillon in southern France, along the border with Spain. Wine has been made there for 2,600 years, since the Greeks founded the city of Marseille. The wine region, thus, reflects influence of Greeks, Romans, Gauls, Catalans, Savoyards, Spaniards and Italians. It is this millennia-deep knowledge that makes special Old World wines special and often unique, and Provence wines special.
The Côtes de Provence AOC covers more than 85 communes (small cities or townships; the name has nothing to do with Communist political ideology). The Côtes de Provence ("côtes" is the French word for coasts) accounts for 75% of wine production in Provence and 80% of that production is rosé. Provence is virtually a synonym for rosé in French wine. Grenache and cinsaut—the grape elements of this effort—are the major grapes used in the region, although carignan and syrah also are allowed. By AOC rule, at least 20% of the wine must be made using the saignée (bleed) method in which some of the juice is bled from the must (freshly pressed juice) in order to provide concentrated phenolics, color, and flavor of the red wine.
Provence wine makers also have a proclivity to unusual bottle shapes; Château de Berne uses an iconic square bottle.
Château de Berne Côtes de Provence Impatience Rosé 2015 is liltingly light with the fruitiness, acidity, and minerality to be enjoyed as a summer sipper or to pair with light fare. The square bottle nicely upholds the convention of unconventional containers for Provence wines. $20-21
Photos: Château de Berne vineyard; classic rocky limestone soil at Château de Berne; barrel room at Château de Berne, Château de Berne vineyard