Château Peyfaures Dame de Coeur Bordeaux Supérieur 2010: Deep ruby-purple color; blackberry, plum on the nose; dark plum, sugar plum, black cherry, blackberry, smoke on the palate.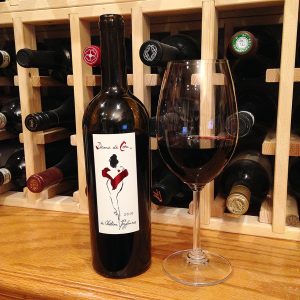 Dry; very rich, very ripe fruit flavors; dense, full body; some oak; basically a right-bank merlot monster. If you like merlot's roundness, ripe fruit, subdued tannin, bit of herbaceous, you will love this wine. Blend of 95% merlot and 5% cabernet franc (which adds to the inky dark color). This makes an emphatic merlot statement and gives you the option to take it or leave it.
Owner and CEO Nicoles Godeau explains her approach on the winery's website: "From 1937 to 2002, the vinification of Château Peyfaures was made in co-op. When I took over the family Estate in 2001 with my children, we decided to reveal the great potential of our clayey chalky hilltops. We studied the soils and we changed the production process. Our goal is to offer one of the best enjoyable Bordeaux wine." Nicoles son, Laurent Godeau, is the winemaker, part owner, and sales manager.
This is a massively right bank, almost over-the-top merlot. Several other critics note how this effort brazenly flirts with too ripe, too rich (well, they don't use the words "brazenly flirts"—that's what you get from me), but we all pull back from censure because this wine's Bordeaux structure rides to the rescue. There is not too much French oak. There is not too much residual sugar, if any at all—with fruit this ripe it is hard to tell, but my bet is on none, especially because the huge fruitiness edges toward finesse after exposure to air. This is wine that will benefit with time in bottle, and several critics note the drinking date is 2018-plus. That is indication of a serious wine, and this clearly is that.
I confess my palate has issues with pure or majority merlot wines. You can't like everything, and merlot's softness and dark plum fruitiness does not hit my palate bull's eye. Which is not to say I cannot enjoy a merlot play, and I certainly—certainly—revel in wines where merlot is used as a blender with cab and cab franc, so the take-away here is this is well-done wine and surely will pleasure a merlot lover's palate, even if I would not make it my first choice. It is good enough, however, that I feel guilt about writing this paragraph.
Château Peyfaures Dame de Coeur Bordeaux Supérieur 2010 is hugely ripe merlot effort from right bank that will be lip-smacking delicious to merlot mavens. $30