Medium yellow-gold color; lemon, peach, nectarine on the nose; sweet peach, melon, apple, taste of sweet cream butter, minerality on the palate.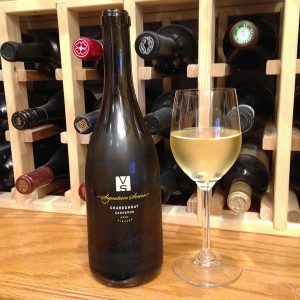 The ripe fruitiness gives this a sense of sweetness, but that is nicely checked and balanced by good acidity. There is well-behaved oak with its touches of toast and vanilla and butter, but this is no butter bomb oak monster; it is what chard tastes like when malo and oak are done correctly. Nice finish where acidity lingers and stretches out the pleasure. Medium body, plays well in the mouth. Pour this as a clever response to an Anything But Chardonnay snob—this is what quality chardonnay tastes like, not your stereotype from commodity efforts purchased in the grocery store in 1998.
Viansa Sonoma is a part of the Vintage Wine Estates group, a collection of some 20 family wineries based out of Santa Rosa, CA. The wineries reach north to the Sonoma Coast and across the Napa Valley. Viansa Sonoma also is integral part of Sonoma history. Samuele Sebastiani arrived from Tuscany in 1896, and by 1904 had enough money to purchase the vineyard in the heights overlooking the Sonoma Valley. The Sebastiani family became pillars of the Sonoma community and American winemaking.
Samuele's children and grandchildren continue the tradition. Founded by Samuele's grandson in 1989, Viansa strives for excellence in wine and in stewardship of the land. Viansa is about 30 miles from San Francisco. Its location as a comfortable drive from the City on the Bay means it also succeeds as a venue—a place for weddings and other events; the property includes 33 acres of estate vineyards, but also 97 acres of natural wetlands that are home to a variety of indigenous water fowl. From a terrace perch at the picturesque winery, visitors can look down upon all 130 acres of this inspiring beautfy.
Many wineries make a substantial part of their profit as a venue. Nothing wrong with that, and Viansa with its elevation and great views of the vineyard, Sonoma Valley, San Pablo Bay, wetland wildlife, all with the Mayacamus Mountains offering a backdrop, certainly qualifies as a magical place. Working with Ducks Unlimited, biologists, and wildlife experts, Viansa helps preserve this unique ecosystem. More than 500 species of birds have been sighted on the restored wetlands. More than 1,000 waterfowl have been counted in a single day. Guests can glimpse canvasback ducks, great blue herons, Canadian geese, egrets, swallows, and—if you are lucky—a tundra swan.
Viansa Signature Series Chardonnay Carneros 2013 is decadently delicious, a wine that can easily hang with food, but also is vivid expression of quality chardonnay to serve as a stand-alone pour to be enjoyed with nibble of cheese, wine crackers, and crackling good company. Viansa has a wine winner with this effort. $45
Photos: Viansa winery; Viansa winery and vineyard; Viansa winery venue area.