Dark ruby, red-wine color; blueberry, boysenberry, cherry, spice on somewhat restrained nose; raspberry, cherry, hints of blue and black fruits, cinnamon, oak on the palate.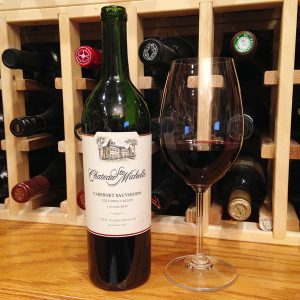 Silky mouthfeel, medium weight, smooth tannins, relaxed acidity, nicely balanced, fruit-forward, dry, very easy drinker. Picks up depth, hints of chocolate, plum on the mid-palate through the finish. Improves with decanting. Mostly cab, but 11% syrah (which helps deliver the boysenberry and the spice), 5% merlot (softness, roundness), and 4% other red varieties.
This is Washington State version of California cab, although with more restrained red fruit and oak, and demonstrates Chateau Ste. Michelle can do almost anything they put their minds to do. Others might prefer their Indian Wells or more expensive efforts, but this is delicious, will please many palates, is widely available, is good quality-for-price play.
Chateau Ste. Michelle started as a hunting retreat and rural farm (called "Hollywood Farm") built by lumber baron Frederick Stimson. The wine operation started in 1954 as the "American Wine Company" after the merger of the National Wine Company, founded in 1934 (the date Ste. Michelle claims for its founding), and the Pomerelle Wine Company. Today, it is Washington's oldest and largest winery. It is owned by Altria, the company formerly known as Phillip Morris.
Chateau Ste. Michelle is one of the few premium wineries in the world that has two wineries, one devoted to red wines and the other to white wines, giving winemaker Bob Bertheau great flexibility. All the Chateau Ste. Michelle vineyards are located on the near-desert east side of the Cascade Mountains, while the wineries are located in Woodinville, 15 miles northeast of rainy Seattle. The winery's 87-acre estate hosts more than a quarter million visitors a year for tours, tastings, dinners, and outdoor concerts.
Chateau Ste. Michelle Cabernet Sauvignon Columbia Valley 2013 is seriously good cab at a jaw-dropping price for this quality. $12-15
Photos: Chateau Ste. Michelle winery; outdoor concert at Chateau Ste. Michelle; Chateau Ste. Michelle tasting room; Chateau Ste. Michelle vineyard