Pale yellow color; mango, peach, pear, lemon on the nose; honeydew, apple, peach, lemon, pineapple on the palate.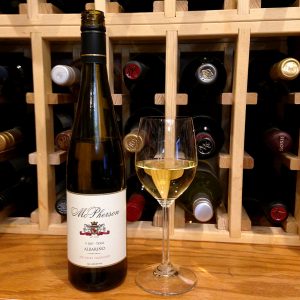 Dry; silky, round in the mouth; medium body. Lacks the saltiness you get from Spanish albariño or Portuguese alvarinho—the Texas High Plains are a long way away from the ocean, while you can hear the Atlantic waves crashing in the distance in the Iberian vineyards. This, however, still captures the tartness juxtaposed to vivid fruit expression you hope for with this grape. Bright acidity (3.34 pH) augurs it will be an excellent food wine, where all the expressions of albariño/alvarinho eventually should lead. Touch of minerality; 12.8% ABV.
No tannins, no oak—no surprise. In some ways this drinks more like a chardonnay than an albariño, but that is more because chardonnay is such a chameleon grape it can taste pretty much like anything the winegrower and winemaker want it to be. Albariño may not be as flexible, but flexible it is—this reflects Texas High Plains terroir and Kim McPherson's vision. In any event, this is a delicious, versatile wine.
For years, the issue with Texas wines—and this is made in Texas with 100% Texas grapes—was there was not enough production to make it economically viable to sell outside the state. That is rapidly changing. Texas has more than 320 wineries—more almost every week, putting Texas just behind New York and ahead of Virginia and Pennsylvania. The Texas Hill Country AVA is the second-most visited wine region in the United States.
The grape supply problem is being solved with increased vineyard acres and production on the Texas High Plains around Lubbock, where these albariño grapes were grown and the wine produced. The Texas High Plains AVA is the dominant grape-producing region of the state. Its advantages are elevation—3,500 feet—with hot days, cool nights.
For many years, the trouble with Texas wine was Texas-proud wine drinkers bought Texas wines even when price did not match quality. They purchased everything Texas wineries could make, thus no need to seek wider distribution. The wineries, however, are yearly increasing production. Same time, the rest of the world has discovered several Texas wineries make very good wines—McPherson is such a winery. McPherson even makes a wine with Dave Phinney of Orin Swift Cellars and The Prisoner fame. That effort—Locations Wine—featuring signature wines from around the world. McPherson provides the "TX" labeled wine in that worldwide portfolio.
Winemaker Kim McPherson is the son of Dr. Clinton "Doc" McPherson, one of the founders of the Texas wine industry. In 1976, Doc—a chemistry professor at Texas Tech—and Bob Reed founded Llano Estacado Winery in Lubbock, one the first post-Prohibition wineries in Texas. Doc's son, Kim, graduated from Texas Tech with a food science degree, then completed the enology and viticulture program at Cal-Davis.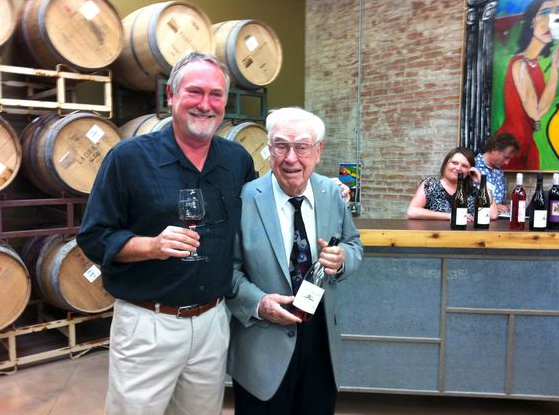 Kim worked at Llano Estacado, then Cap*Rock until starting his own label in 2000. Kim converted a 1930s-era Coca Cola bottling plant into a winery in downtown Lubbock in 2008. They also sell their wine at a joint effort in Fredericksburg—4.0 Cellars—in partnership with Lost Oak Winery, Brennan Vineyards, and 4.0 Cellars by Todd Webster.
McPherson Cellars Albariño, Texas 2017 is a deliciously fruit-forward iteration of the albariño/alvarinho grape from the Texas High Plains. Very smooth and gets smoother as it warms and enjoys exposure to air. Becomes complex, too, with wonderful action on the mid-palate and finish. Bottom line: another McPherson stunner you should seek out and try; 700 cases were made, so you have a chance. Pair with seafood, shellfish; chicken cooked many ways; Spanish paella; spicy Asian and Thai dishes; garden salads; this also works as aperitif and summer solo sipper. $12-18