Pale copper color; strawberry, cherry, peach, leather on the nose; strawberry, peach, pink grapefruit, raspberry, cherry, minerality on the palate.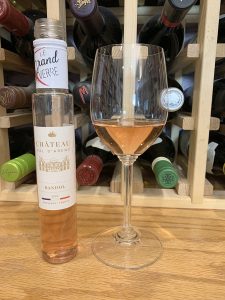 Dry; good acidity and touch of tannin; medium body, silky in the mouth. Lean, concentrated, thirst-quenching. Blend of 80% mourvèdre, 10% grenache, 10% cinsault; vineyard certified organic by Ecocert. 13.5% ABV

The roots of this operation begin in 1890 when Théodore Sénéclauze moved to Algeria and set up a wine business. After seven decades in Algeria, the family was forced to move and settled in Marseille in 1962. They obtained Château Val d'Arenc in 1991. Sénéclauze grandsons, Pierre-Louis and Philippe, operate the business today. Gérald Damidot is the winemaker, taking over the château in 2015. He fully converted the operation to organic farming practices. $29.99 for four-pack ($7.50 a bottle)
Château Val d'Arenc website (French)
This 187 mL bottle was received as part of a four-bottle online tasting from a French wine club, Le Grand Verre (LGV). They focus on largely artisanal, female-operated estates, organic and sustainable farming, and eco-friendly packaging. The single-serving "bottles" hold 6.3 ounces and are unbreakable and made from recyclable materials, double-coated to preserve all the aromas.