Pale ruby color; cherry, plum, blueberry, toasty oak on the nose; bing cherry, plum, raspberry, vanilla, oak on the palate.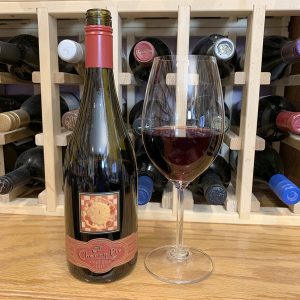 Dry; easy-going tannins, good acidity (3.68 pH). Rich, tasty, vivid fruit. Pure pinot noir play, 63% Monterey, 21% Santa Barbara, 16% Napa; 14.2% ABV.
The Cherry Pie website tells its story: "Founder Jayson Woodbridge always had a desire to make Pinot Noir. He contacted the owners of historic Stanly Ranch, in the Carneros appellation of Napa. He was shortly thereafter granted access to the very best blocks on the property to craft his wine. Inspired by his grandmother's baking and the artwork of TR Colletta, Cherry Pie is at once a rich and layered, redolent of the flavors and aromas of something delicious and beautiful, being made with care."
TR Colletta is an artist whose "richly detailed paintings of everyday, distinctly American objects are at once familiar and remarkable, assuming an evocative, sculptural character. Jayson was particularly drawn to a compelling oil on canvas of a juicy, mouthwatering, hot-out-of-the-oven cherry pie. He instantly knew this was to be the label and the name for his Pinot Noir still in the barrel—Cherry Pie."
Cherry Pie 'Tri-County' Pinot Noir 2017 is tasty, rich representative of mid-California pinot noir fruit. Smooth and fruity with oak that does not overpower. Concentrated, earthy elements from Monterey grapes. Aromatics from Santa Barbara fruit. Underlying quality from Napa. Pair with beef tenderloin; chicken breasts with rosemary and thyme; grilled salmon; lamb stew with root vegetables. $19-23
This is négotiant wine operation, so there are no photos of a winery and its vineyard.