Medium yellow color; pineapple, pear, green apple, lemon on the nose; pineapple, passion fruit, Granny Smith apple, lemon on the palate.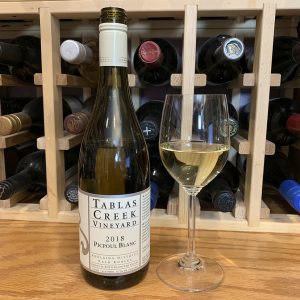 Dry; excellent acidity; rich and full in the mouth. Light-medium body. Buttery notes from malolactic fermentation. Nice steely minerality with saline element. Bright flavors; clean; fresh; balanced. The wine is made in large, mature foudres so there in minimal oak; 13.2% ABV.
Founded in 1989, Tablas Creek is a pioneer in California "Rhone Rangers" movement. It combines two wine families—the Haas family of Vineyard Brands and the Perrin family of Château de Beaucastel in Chateauneuf-du-Pape in the southern Rhône. After a four-year search, they chose the Adelaida District in Paso Robles because of its similarities to the southern Rhône. Then followed an extensive program of importing vine cuttings, building a grapevine nursery, and creating an estate from scratch.
Jason Hass is the partner and general manager; his father, Robert, died in 2018 at age 90. Jason holds a degree in economics from Williams College and a masters in archeology from Cornell. After managing a tech company in Washington, DC, he returned to the family wine business in 2002. Neil Collins is the lead winemaker at Tablas Creek. Collins was born in England. He started as a chef, then turned to winemaking in California. He has overseen the organic vineyards and the winery since 1998. Chelsea Franchi is the senior assistant winemaker.
Picpoul is French for "stings the lips" or "lip stinger", and this has the classic picpoul acidity as the backbone. But it a has smooth, almost creamy element, especially on the initial attack. The sting only appears on the late mid-palate and finish, and it is sort of like being pinched with velvet gloves. The impression is you are drinking two different wines, which is what picpoul can deliver.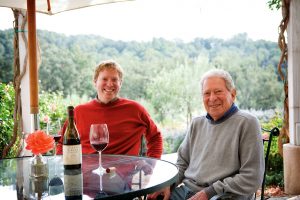 A very ancient grape, picpoul has the ability to deliver acidity even in a hot climate. Which is why it succeeds in the southern Rhône and increasingly is found in warmer California regions and on the Texas High Plains. In the southern Rhône it principally is a blending grape to provide its legendary minerality and acidity. In California and Texas, however, it is increasingly used as a varietal or the lead grape in a blend. This effort is 100% picpoul. Picpoul blanc is the most common grape, but there also are rare picpoul gris and picpoul noir variants.
Picpoul rivals vinho verde, alvarinho/albariño, sauvignon blanc, and pinot grigio as seafood wine. Its acidity makes it a excellent food wine, especially with seafood, fish, white meats and cream sauces. With global warming, its acreage is on increase because of its ability to flourish and deliver acidity in warm climates.
Tablas Creek Vineyard Picpoul Blanc 2018 is exceptionally smooth easy drinker that simultaneously delivers excellent acidity, brightness, and salinity—especially on the finish. Complexity and depth. More fruit and body than many southern Rhône efforts, where picpoul seldom is bottled as pure varietal. Tablas Creek is the premier producer of picpoul in the United States. Pair with seafood and shellfish— goes without saying, this is picpoul's wheelhouse; cream-based dishes where the acidity serves as counterfoil to tongue-coating creaminess. $30-32