Deep ruby color; dark cherry, plum, blackberry, forest floor on the nose; black cherry, plum, blackberry, boysenberry, blueberry, pencil lead on the palate.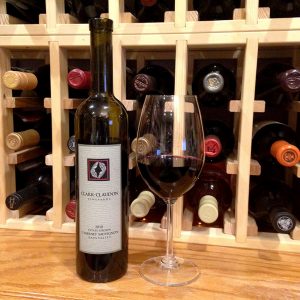 Dry; smooth, velvety tannins; medium-full body; refined and elegant rather than powerful; soft, ripe fruits, only hints of redcurrant tang after eight years. Well made; not a blockbuster Napa cab; "elegant" keeps coming to the descriptive vocabulary as I sip. Dark chocolate makes cameo appearance in mid-palate and pleasingly long finish.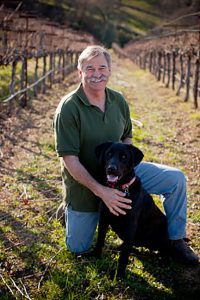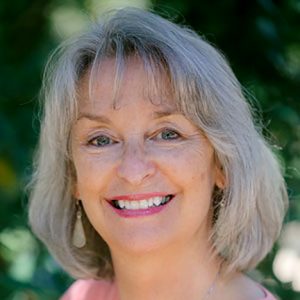 In 1974, following a Peace Corp assignment in Colombia, Tom Clark and Laurie Claudon came to the Napa Valley and fell in love with it and its potential. As their family grew over the next four years, so did their knowledge of grape growing. In 1979, Tom founded Clark Vineyard Management and began developing and managing vineyards.
In 1989, Tom and Laurie found a piece of property on the northeast side of Howell Mountain they judged ideal for cabernet sauvignon. They leased and developed the property, then exercised their option to buy. They considered naming the vineyard "Sweat Equity," but decided instead on Clark-Claudon Vineyards. Over the years, their wines have received acclaim and their children, Joshua, Briana and their spouses joined the operation. Clark-Claudon Vineyards remains a family affair.
Clark-Claudon was committed to responsible agriculture from the beginning. Their website explains: "Our farming philosophy of working with nature is supported by sustainable, low impact and state of the art viticultural practices throughout each season. These include expert water and canopy management, attracting natural predators through the use of hawk, kestrel and song bird boxes as well as providing both a cover crop and surrounding plants that house beneficial insects. The forest, brook and meadows that comprise the balance of the 117  acres are conserved for the abundant birds and wildlife who call it home."
Clark-Claudon Vineyards Cabernet Sauvignon Napa Valley 2010 is a refined, elegant pour. Given the vintage date, it is unlikely you will find this wine in a store—the winery itself is sold out—but given Clark-Claudon's reputation for consistency, it would be well worth your time and money to give whichever vintage you can find a swirl and sip. Pair with the usual Napa Valley suspects—red meats; ribeye and sirloin; slow-braised beef or venison; leg of lamb or lamb steak with rosemary; portabello mushrooms; hard cheeses such as aged cheddar or gouda. With this elegance, it also can be enjoy solo, maybe with a neutral wine cracker. $68-82