Pale-medium ruby color; cherry, raspberry, strawberry on the nose; raspberry, black cherry, chocolate-dipped strawberry, vanilla, oak spice on the palate.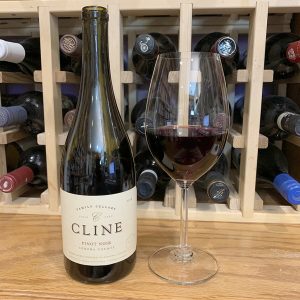 Dry; medium-full body; fresh acidity (3.80 pH). Smooth, laid back tannins. Oak influence from 5-10 months barrel aging in 40% new French, with small amount of American and Eastern European oak. Good QPR (quality-price ratio) for a Sonoma pinot noir from a solid maker. Uncomplicated, tasty. Tartness on first sip, but quickly smooths out with a little time in glass.
Fred Cline marches to different drummer. While some of his generation frolicked in the 1960s, Fred learned the ways of soil and farming from Valeriano Jacuzzi—Fred Cline's maternal grandfather and one of seven Jacuzzi brothers who pioneered in American aviation and water pumps. When you turn on a Jacuzzi in your hot tub you are enjoying his family's work. Eschewing aircraft and whirlpool devices, Fred and his wife, Nancy, decided to go into the wine business in the 1980s.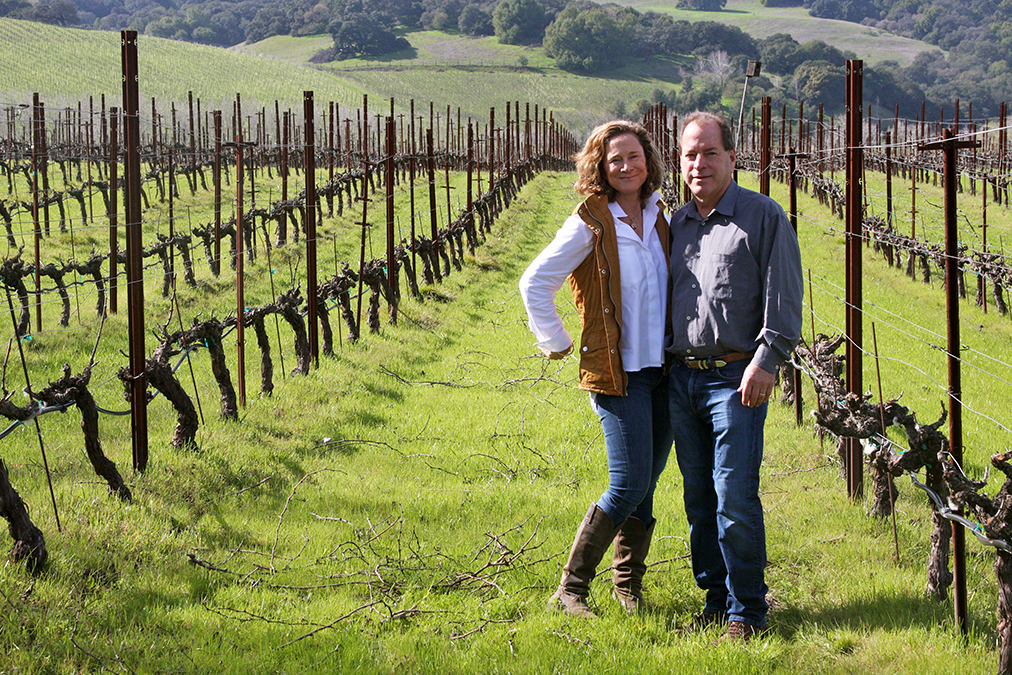 Cline's first mission was restoring old vines and vineyards growing Rhone-style wine vines, such as syrah and mourvèvdre. Later came attention to ancient—some more than a century old—zinfandel, and Cline became famous for its zins. The Clines began planting pinot noir more than 20 years ago, ahead of the curve in Sonoma.
In cooperation with legendary farmer Bob Cannard, the Clines founded Green String Farm, a 150-acre working farm that produces a variety of fruits and vegetables grown on soil that is tended and nurtured without toxic chemicals. Produce from Green String is used by such culinary luminaries as Alice Waters of Chez Pannise.
Green String and Cline's vineyards go "beyond organic." They use no pesticides and herbicides. They incorporate sheep and goats for weed control (see link to video below), apply compost teas, encourage beneficial insects, apply ground volcanic cinders to replenish soils, and use whey to feed the microbiome. Cline wines are vegan, gluten free, and the vineyards are Certified California Sustainable.
A second winery, Jacuzzi Family Vineyards specializes in Italian varietals. It is located across the street from Cline Family Cellars and is modeled on the Jacuzzi family home in northern Italy. The Olive Press is one of the most recognized artisan olive oil and balsamic makers in the U.S. Tonopah Brewing Company is the only brewery in central Nevada serving American ales, IPAs, pilsners, hefeweizen, and Irish red ale, all brewed in-house. What a nice record of pleasuring diverse palates.
One of the Cline's seven children, Emma Cline, is the author of a best-selling summer novel, The Girls. You could do a lot worse than reading the book and sipping wine her parents make. If you Google her name and book title, you can find a large amount of very entertaining video interviews with the next generation of Cline achievers.
Cline Family Cellars Pinot Noir, Sonoma County 2018 is fresh, bright, fruit-forward. Solid and dependable wine from solid, dependable maker that also is a leader in sustainable agriculture. Pair with lamb; braised meats; duck; salmon, cod and other fish. $15-22
Charming video about wooly weeders (scroll down to find it)