Deep ruby color; red fruit, spice, vanilla on the nose; plum, sour cherry, raspberry, red fruits, spice on the palate.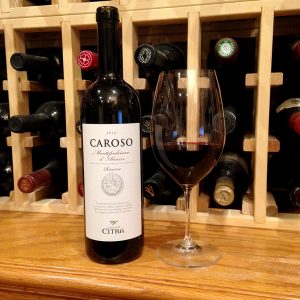 Dry; medium body with ripe tannins and some herbaceous notes in the first glass. Both tannins and herbaceous notes notes resolve with some air—decant this for best enjoyment. A pinch more acidity would give this a more assertive, Italian verve character; on the other hand, many will enjoy its silky smoothness and mellow fruit, especially the plum initial attack followed by the sour cherry on the mid-palate.
In spite of the vanilla notes on the nose and 24 months of aging in French barriques and Slovakian oak barrels, the oak is not obtrusive and does not obscure the Montepulciano d'Abruzzo grapes. Seven years of aging likely helped this effort evolve to the soft, easy drinker it is.
The montepulciano grape is planted throughout central and southern Italy. It is Italy's second-most planted red grape, after sangiovese. It rarely is planted in northern Italy because it has a tendency to ripen late and can come across as green—herbaceous—when it must be harvested early due to weather. When fully ripe, which is easier to achieve as you move south, it produces deeply colored wines with moderate acidity and moderate alcohol (this effort is 13.6 ABV). This effort tracks on what you expect from Montepulciano d'Abruzzo, including a consistent value-for-price position.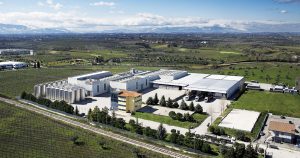 Codice Citra is an enterprise that came into being in 1973 when 3,000 small growers throughout the Abruzzo region of Central Italy banded together to form a single wine cooperative. Today, Citra is Abruzzo's most important wine producer. Wine Spectator named it as one one of the "20 World's Finest Value Brands." Today, the Citra cooperative numbers some 10,000 growers. Citra is one of four large co-op wineries that make nearly 80% of wine in Abruzzo; Cantina Tollo, Casal Thaulero, and Casal Bordino are the other three. In addition to making wine, the four co-ops also sell juice to other Italian and French regions, where the juice is used for blending.
The Montepulciano d'Abruzzo DOC was created in 1968 as a red and rosé wine only DOC covering mover than 18,500 acres. Wines qualifying for the DOC designation must include at least 85% montepulciano grapes, with sangiovese permitted up to 15%, although some subzones require 100% montepulciano. This bottle is 100% montepulciano. The wines must age a minimum of five months prior to release—this aged two years. Six months additional refinement in bottle is required, but this is the current release of Caroso, so clearly there were several more years of bottle aging to smooth things out. In short, this well exceeds the DOC minimums, and thus the "riserva" designation.
Codice Citra Caroso Montepulciano d'Abruzzo DOC Riserva 2010 is a smooth, easy drinker. It should appeal more to merlot fans than cabernet sauvignon fans, although montepuliciano is its own distinctive grape. Red wine drinkers in general will enjoy, and it is soft enough and fruity enough to pleasure palates just beginning their serious wine journeys. Pair with beef, venison and other wild game, lamb, hard cheeses like aged cheddar, Italian tomato-based dishes, pasta, meat-lover's pizza, roast pork shoulder, loaded baked potato, pinto beans. $19-23