Inky purple-black color; black cherry, brambles, star anise on the nose; dark almost-jammy fruits, blackberry, spice, mocha on the palate.
Dry; rich, massive fruit masks the heat from 15.7% ABV; classic Lodi zin style from historic vineyard planted in 1904; tame tannins; good acidity for this style and grape (3.65 pH) contributes to the overall balance. Very tasty, fruit-forward, smooth, round, fun to drink, crowd-pleasing wine.
The Lizzy James vineyard is located some two miles from the winery's tasting room. The winery is named for the road that goes past the vineyard. The vineyard and winery is just southeast of Lodi; Harney Lane is the southernmost major street in Lodi.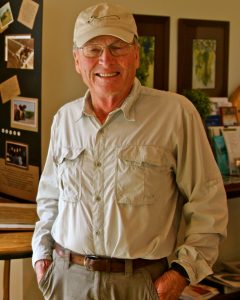 The Mettler family has lived on Harney Lane for more than a century. Today, Kathy Mettler is the matriarch of the family, her husband George passing in 2013. George's great grandfather first purchased the property in 1900. George's grandfather planted the first vineyard a few years later. George's mother and father, Emil and Frances Mettler, then worked the vineyards and farming operation. George took over the operation shortly after marrying Kathy. Today, Jorja Lerner—George and Kathy's only child—and her husband, Kyle run the operation. George and Kyle moved the family business from exclusively raising wine grapes, cherries and corn to add a winery in 2006.
Kyle quips farming is legalized gambling with variables. He started out as a business major before marrying into the Mettler farming family, then was mentored by his father-in-law for more than 25 years. Jorja avoided the family business and was a physical therapist for 15 years before succumbing to the allures of vines and wines. The Lerner's teenage kids, Kirsten Elizabeth and Ian James are following the family traditions in the vineyards.
The vineyard adheres to the Lodi Rules for the Sustainable Winegrowing Program, the first such effort in the U.S., established in 2005. The program certifies sustainable management of the ecosystem, soils, water, business practices, human resources, and pest control with an emphasis on reducing pesticide risk to farm workers, consumers, small aquatic invertebrates, birds, and bees. Each of the program's 101 standards is measurable, auditable, and addresses at least one sustainability aspect. Since its beginning, the program has grown to more than 36,000 acres statewide, including the Harney Lane properties.
Harney Lane Old Vine Zinfandel, Lizzy James Vineyard, Lodi 2014 is a big, fruity-sweet, rich, high alcohol, delicious, easy drinker. It is the kind of wine that compels you to drink another pour. And then, likely, another. And so forth. Pair with slow-cooked brisket, chili, spaghetti and meatballs, lamb, venison and other wild game, sausage. If it pairs with big cabernet sauvignon, it almost certainly will pair with this effort. This also easily works as a cocktail solo sipper with wine crackers and squares of sharp cheese. $35-36