Medium straw color; peach, orchid, pear on floral nose; Meyer lemon, peach, pineapple, banana on the palate.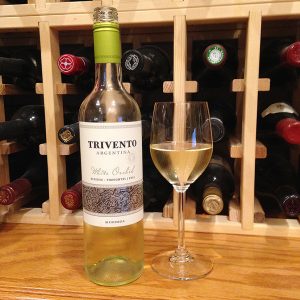 Off-dry; nicely crisp acidity and tang that plays well with the slight sweetness and fruitiness. Light-medium body; all stainless fermentation; pleasing and long finish with tang and hint of salt. Blend of 85% torrontés—Argentina's signature white grape—and 15% pinot grigio.
Tivento winemaker Maxi Ortiz touts this is as a "fantastic alternative to Pinot Grigio… a hint of sweet without being sweet, lots of action on the nose, and a harmonious, more nuanced palate that segues into a refreshing, lingering finish." His bottle of wine backs up his words.
Established in the mid-1990s by the Chilean wine giant Concha y Toro, today Trivento is one of Argentina's larger and most-respected estates; Mendoza is the country's premier wine regions. Trivento's name means "Three Winds"—a reference to the three winds (Polar, Zonda, Sudestada) that sweep through Mendoza and are a distinguishing feature of the region's climate and environment.
Trivento's principal vineyards are located in the Uco Valley, Maipu, Lujan de Cuyo, San Martin and Rivadavia districts of Mendoza—a wine region that exemplifies the advantages of high-altitude viticulture. The grapes for this effort come from the Uco Valley.
Trivento is part of Excelsior Wine Estates, a sales and marketing partnership of Banfi Vintners and Concha y Toro to sell in the U.S. market. Excelsior is the exclusive distributor of the Chilean wines of Concha y Toro, Trivento, and the California wines Little Black Dress and Five Rivers. So, a very major player in the wide world of wine.
Trivento White Orchid Reserve Torrontes 2016 is a real alternative to pinot grigio with taste elements that give its surprising depth—by the third glass you may discover apricots and honey as air exposure opens it up even more. The tangy, long finish is outstanding. Will pair very nicely with green leaf salads, goat cheese with a honey and olive oil dressing; its bright acidity and suggestion of salt means it will go well with shellfish, shrimp, and lighter fish. $11