Medium ruby color; plum, blueberry, blackberry on the nose; black fruits, blueberry, minerality, oak smoke, sweet spice on the palate.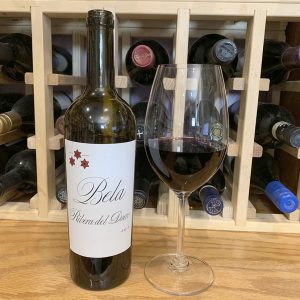 Dry; easy going, fleshy tannins; average acidity (3.7 pH). Medium body; 100% tempranillo. Grapes experienced cold maceration in stainless steel. Following fermentation, the wine spent six months aging in new and one-year-old French and American oak. This is fairly young tempranillo with short time in oak and fits the profile of such wine; 14% ABV.
The winery was built in 1999 and the vineyard planted in 2002, almost all in tempranillo. CVNE (Compania Vinicola del Norte de Espana) began in 1879 in the town of Haro in Rioja. CVNE was founded by two brothers and today is still controlled by the direct descendants of the founding family. The French architect Aleixadre Gustave Eifell—of Eifell Tower fame—designed the winery's first cellar using steel trusses so there are no columns.


The label is based on a label from 1910. The stars represent the children of CVNE's founder, Eusebio Real de Asúa. His brother, Raimundo, had no descendants. Each star represents one the Eusebio's three children—Sofia, Áurea, and Ramón. Sofia was known as "Bela." Today's owners descend from her.
Vintage 2017 presented significant challenges. Late frost. Summer drought. The winery notes: "Knowledge of the vineyards as well as the perfect planning and preparation of their upkeep was fundamental in guaranteeing favourable development during the grape ripening process."
CVNE Bela Ribera del Duero Red Wine 2017 is fresh and juicy with the meaty elements typical of tempranillo. Good structure and some depth for a wine at this price point. Plenty of blueberry and black fruits. Benefits from some air/decanting, becoming a friendlier, easy drinker. Pair with steaks; barbecue; grilled meat; beef stew; rack of lamb; gourmet burgers; Mexican food—tacos, nachos, chile rellenos. $14-17