Very deep strawberry-pink color; red fruit, strawberry, licorice on the nose; strawberry, raspberry, sour cherry, red plum, watermelon, tart cranberry, redcurrant, tangerine on the palate.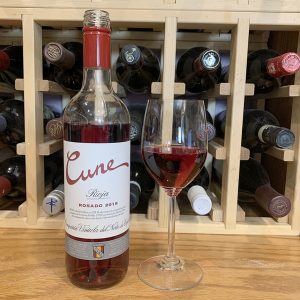 Dry; tartness frames the experience; good acidity (3.35 pH). Barely a rosé/rosado, with color almost as deep as a pinot noir thanks to 36 hours on the skins. Medium body, more than standard rosé. Made with 100% hand-picked tempranillo from low-yield vineyards. No oak; made entirely in stainless steel at low temperatures to emphasize sharpness of fruit.
Distinctive style of rosé which will surprise those expecting softness and easy fruitiness. This is more serious—give yourself several sips to adjust and appreciate it for what it is. Tartness and sourness works for some palates, if not all; 14.5% ABV. If you want a more conventional rosé from the same maker, try CVNE Viña Real Rosado. If you want a rosé with spunk and attitude, this is clearly worth a try. Serve well chilled.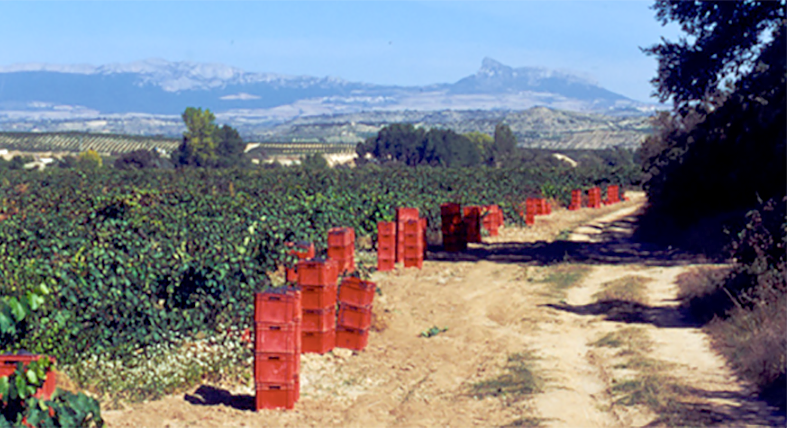 CVNE stands for Compañia Vinicola del Norte de España (you also will see it spelled 'CUNE'). The company was founded in 1879 in the town of Haro in Rioja. CVNE was founded by two brothers and today is still controlled by the direct descendants of the founding family. The French architect Aleixadre Gustave Eifell—of Eifell Tower fame—designed the winery's first cellar using steel trusses so there are not columns. The company now comprises four wineries: CVNE, Imperial, Viña Real, and Contino.
CVNE Cune Rosado, Rioja 2019 delivers tart red fruits, sour cherry. Not your standard rosé/rosado; drinks like a light red wine; 100% tempranillo using saignée technique. Interesting complexity. More a niche wine than a wide audience effort. Works as aperitif for the right audience; pair with seafood, rice dishes; Oriental cuisine; braised lamb with tomatoes; chicken. $13