Paul Giamatti's character Miles Raymond in the movie Sideways was as passionately anti-merlot as he was passionately pro-pinot noir.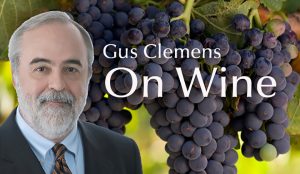 The merlot revulsion flowed from his ex-wife's love of merlot, but most movie goers missed that nuance and only picked up on "No! If anyone orders merlot, I'm leaving. I am NOT drinking any ******* merlot."
Next came "Sideways Effect." Merlot sales slumped, pinot noir sales soared. California pinot noir plantings increased 170 percent while overall wine vine plantings increased just eight percent.
Sideways had something to do with it, but pinot noir is an apex grape, extraordinarily food-friendly, found in some of the world's most expensive and greatest wines, so pinot noir breakout was no bottle shock.
Merlot, however, also is an apex grape, able to make extraordinary wine, some of the world's most expensive and greatest wines. In a taste-off between Domaine de la Romanee-Conti (Burgundy pinot noir, average bottle price $14,000) and Chateau Petrus (Bordeaux merlot, average bottle price $5,000) the winners are those privileged to be tasting.
Merlot's meltdown was not engendered by Sideways, although the movie was a tipping point. Merlot was a darling of the previous decade, and growers gravitated to merlot as overzealously as pinot planters would the next decade. The result was gallons of insipid merlot, and merlot can be a flaccid, plummy wine with no distinction, especially when overcropped in California's hotter climates.
To everything there is a season. The merlot cataclysm reduced merlot plonk as opportunists chased the next bright, shiny object in the wine marketplace. Today, good merlots are some of the best values in the wine world. Miles Raymond should be over his ex-wife by now. So should you. Give merlot another chance.
Tasting notes:
• Kim Crawford Rosé Hawke's Bay 2016: 100% merlot, beautiful color, simple, pleasing. $15-18 Link to review
• Cline Cellars Sonoma Coast Estate Merlot 2013: On the big, assertive spectrum of merlot; pairs with many comfort foods. $16-17 Link to review
• Robert Mondavi Napa Valley Merlot 2013: Solid value; easy drinking, fruit forward led by black plum. $21-23 Link to review
• Château Peyfaures Dame de Coeur Bordeaux Supérieur 2010: Hugely ripe, 95% merlot, big, delicious. $30 Link to review
Last round: Something bad happens, drink wine to forget. Something good happens, drink wine to celebrate. Nothing happens, drink wine to make something happen.