Pale copper color; strawberry, tangerine, blood orange on the nose; ruby red grapefruit, strawberry, tangerine, raspberry, cherry, blood orange, minerality on the palate.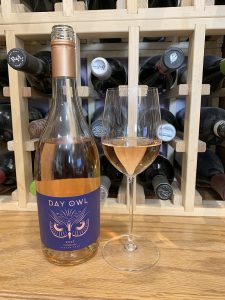 Dry; fermented in stainless steel, so no oak. Good acidity (3.37 pH). Fresh with tasty red fruits. Blend of 43% barbera, 30% grenache, 14% syrah, 13% French colombard from Central Coast and Paso Robles regions. Fun, easy drinker. Light body with lively texture. 12.5% ABV
There are no photographs of verdant vineyards or inviting tasting rooms on their website, so it can be assumed this is negotiant operation. While trying to avoid being sexist, this is crafted as a chick wine. The website notes: "Crafted by our team of incredible women led by winemaker Alyssa Reynolds, Day Owl Rosé isn't about shifting the narrative; it's about rewriting it." Also, their website tag line: "Rosé made for females who get sh*t done."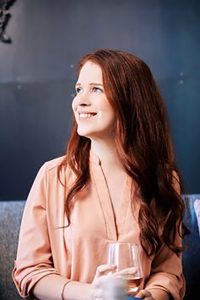 Day Owl Rosé, California 2020 is simple, clean, easy drinking palate pleaser. Rampant red fruit flavors from four different grapes, led by barbera and grenache, deliver fruity sweetness, but with just 10 g/L this is solidly in the dry still wine category. Another case where vivid, ripe fruits fool the palate.
With its lovely copper copper color and moderately restrained alcohol, works nicely as an aperitif. Pair with garden salads, especially ones with some fruit included; watermelon and mint salad; spicy tacos and other spicy food; avocado toast; shellfish; barbecue chicken, appetizers and snacks. Good QPR at $11-14 for the 750 bottle. Day Owl also makes a rosé in cans with slightly different grape formula—75% barbera, 16% grenache, 8% syrah, 1% muscat; 3.29 pH. It sells for $20 for a four-pack.