Medium straw color; peach, honeydew melon on the nose; melon, citrus, white peach, lemon on the palate.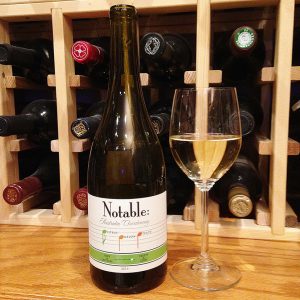 Dry; fruit forward style with enough acidity (3.36 pH) to achieve pleasing balance. Light-medium body; nicely precise, fresh, lively fruit. All juice fermented in stainless steel to emphasize the deliciousness of the fruit. Blend of 91% chardonnay, 9% other whites (semillon, chenin blanc, colombard). While the attack is crisp, by the finish this has mellowed considerably. Time in glass also mellows things, likely allowing some of the "other white" grapes to play their bit part roles.
Notable is a new duo of chardonnays that announce the flavor profile on the label using musical notes. This is the fruity and crisp effort; my previous tasting was the oaky and buttery version. The fruity and crisp grapes come from Southeastern Australia; the oaky and buttery grapes come from California grapes.
The brand is so new there is little about it on the internet, and the winery website is Spartan with information. This is a Constellation Brands effort, and the unabashedly niche targeting of this brand certainly fits into Constellation's business model, which has made them the biggest wine company in the world. There are no images of the winery or tasting room, so this likely is wine made in a production facility to a specific, focus-group tested slice of the chard market. This is not nearly as austere or racy as a Chablis, but it definitely qualifies as fruity and crisp. Fans of fruity and crisp will enjoy this wine.
Notable Australia Chardonnay Fruity & Crisp 2016 delivers on its promise in same was as the other Notable chard—oaky and buttery—delivers on its label claim. This is not complex, but it is well made and does exactly what it said it would do. No risk, nice price. Try as an every day wine if this is the style you enjoy and you will likely not be disappointed; which is not a bad marketing strategy, by the way. Will pair with grilled fish, salmon fish cakes, lobster, pan-seared scallops, shrimp, smoked turkey, caesar salad, vegetable soups, mild curries with buttery sauces. $13-15
Notable Wines website